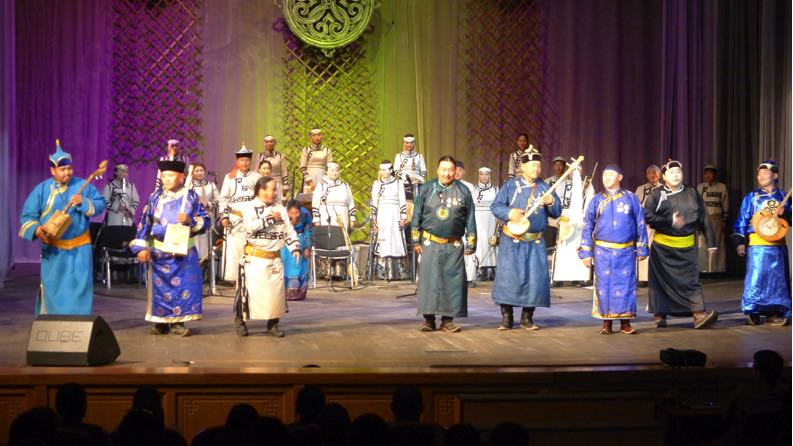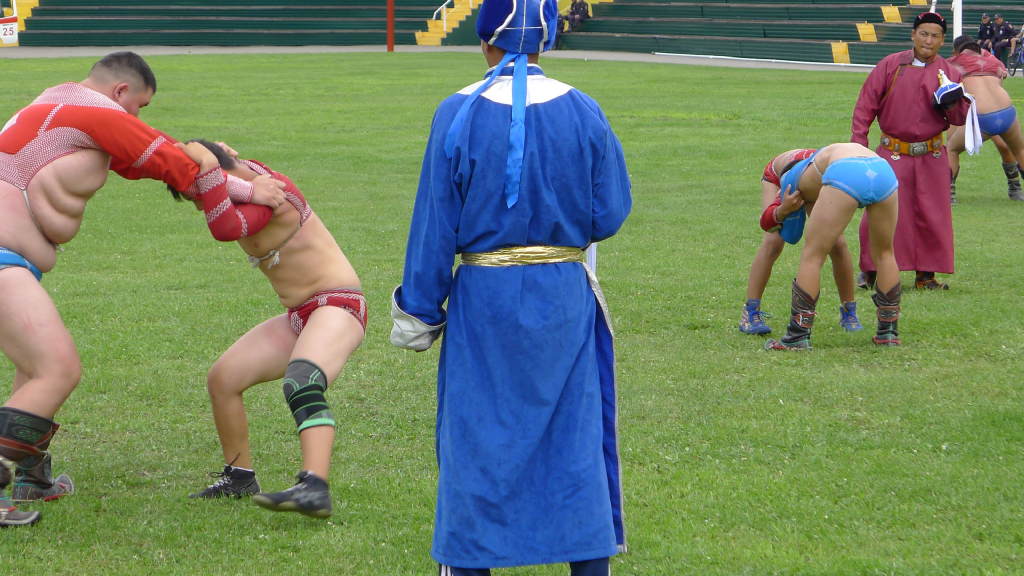 ROUGH ITINERARY
This tour shows you the many different faces of the Republic of Tuva, a little gem hidden behind mountain ranges and dense forests in South Siberia. Due to its isolation from the rest of Siberia and Russia, it is unusually rich in its culture, music, spiritual life and nature. You get a complete experience of all these facets, which we believe is better than just a musical tour. You will learn how all the different aspects of present-day Tuva are intertwined in sections of the tour.
We first drive through beautiful scenery and past several landmarks to the mountains and lakes of the Süt-Khöl ('milk lake') in West Tuva. We get deeply immersed in the beauty of Tuvan nature and learn about the deeper relationships Tuvans have with it through their spiritual traditions, like animism and shamanism. Mark will give those who like some of his trademark, unusual voice classes to prepare you for throat singing lessons later on.
Our stay is somewhat primitive and after several days we return to the city, where we join the Day of the Republic, among other things, and explore the 'urban' of this city of 100.000+ souls.
The next few days are about music, and in particular khöömei, with classes, meeting instrument makers who sell instruments, and the celebration of the Day of Khöömei, starting with a shamanic ritual. We will stay in two lovely yurt camps outside the city.
To finish, we undertake a one-day walk in the area that has helped preserve Tuva's many unique features. This is the huge Ergaki mountain range between the endless flowing plains of Siberia and Tuva, shielding Tuvan from Russia and connecting it strongly to Mongolia. after a good night rest and a last banya, we return to the civilised world and head for the airplanes or trains that bring us home.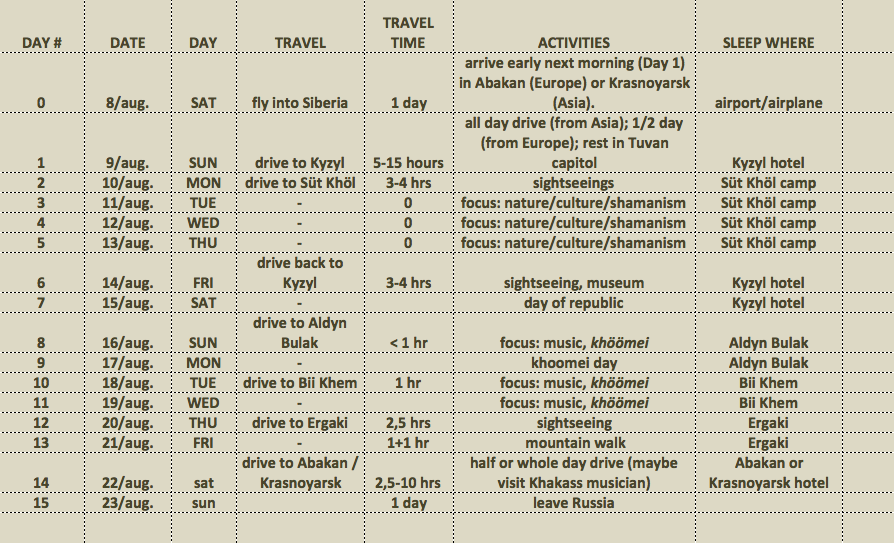 YOUR
TOUR
GUIDES
Choduraa Tumat is a professional, traditional musician and music teacher since the mid 1990s. She studied music in Kyzyl (Tuva) and Ulan-Ude (Buryatia). She masters nearly all styles of Tuvan throat-singing and plays various traditional instruments: doshpuluur, chadagan, khomus, igil. She is also a lecturer at the Kyzyl Pedagogical School. In 1998 she brought together a number of enthusiastic young ladies in order to make an all-women group of essentially Tuvan music and an ambition to break the age-old taboo on women singing with throat techniques: Tyva Kyzy. In 2018 the group celebrated its 20 years jubilee with a very succseful world tour and the CD recording or a new CD. That same year, Mrs. Tumat was the first and so far the only female throat singer to receive the honorary title 'People's Throat Singer of the Republic of Tuva' from the president.
Mark van Tongeren is a Dutch sound explorer and ethnomusicologist with a deep interest in the synergy of arts, sciences and contemplative traditions. He has over 25 years of experience in theatre-, music- and dance productions and holds a PhD from Leiden University's Academy of Creative of Performing Arts. He began doing fieldwork in Tuva and writing about its rich musical traditions in 1993. He is best known for his cross-over work in traditional, contemporary and experimental vocal techniques and performing arts, in particular Tuvan throat singing/khöömei and other kinds of overtone singing.
With help from many others, Mark van Tongeren and Choduraa Tumat offer a varied, intensive Tuva experience. The aim is to connect as much as possible with indigenous culture and musicians and to travel responsibly, reducing the impact on the environment. This entails some inconveniences, for example, a lack of certain basic needs travellers may be used to for other destinations.
We will mostly have to share accomodation, sometimes sleeping with four people in a yurt. To deal with the hygiene situation (like a lack of shower or bath) we provide banyas at no extra cost wherever possible, whenever you like.
We believe this tour is not your usual touristic visit. We hope it will be a great learning experience, as you travel with several teachers, with an indigenous Tuvan or scholarly background. We all speak three or more languages, like Tuvan, Russian, English, Nederlands and 中文, so that we should be able to handle all – well, almost all – your questions about Tuva.
TRAVELING THERE
The tour is designed to accommodate travellers from the Asian region and Europe, arriving and departing at different times but the same dates, in towns north of Tuva. There are convenient connections from Beijing to Krasnoyarsk, as well as from Europe through Moscow to Abakan or even straight into Kyzyl. We pick you up on August 9 and bring you back to your airport on August 22, to catch a flight that evening or the next morning. Extensions are possible upon request.
We will have a more detailed program as we proceed with our preparations. But the itinerary is never written in stone: the program must be flexible, because things often change at the last moment in Tuva/Siberia. We have experience to come up with alternatives, and cannot take responsibility for every detail by the time you book.
Being surprised is part of the adventure of a trip into Siberia – a journey you may make only once in your lifetime (though there is a core group of fanatic travellers who come back again and again; Mark's first visit was in 1993).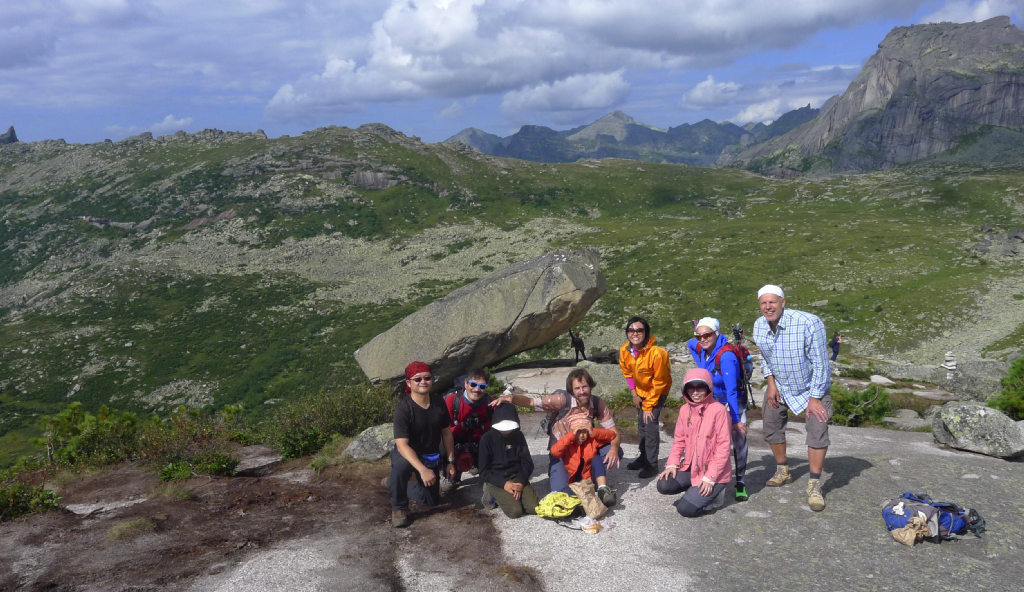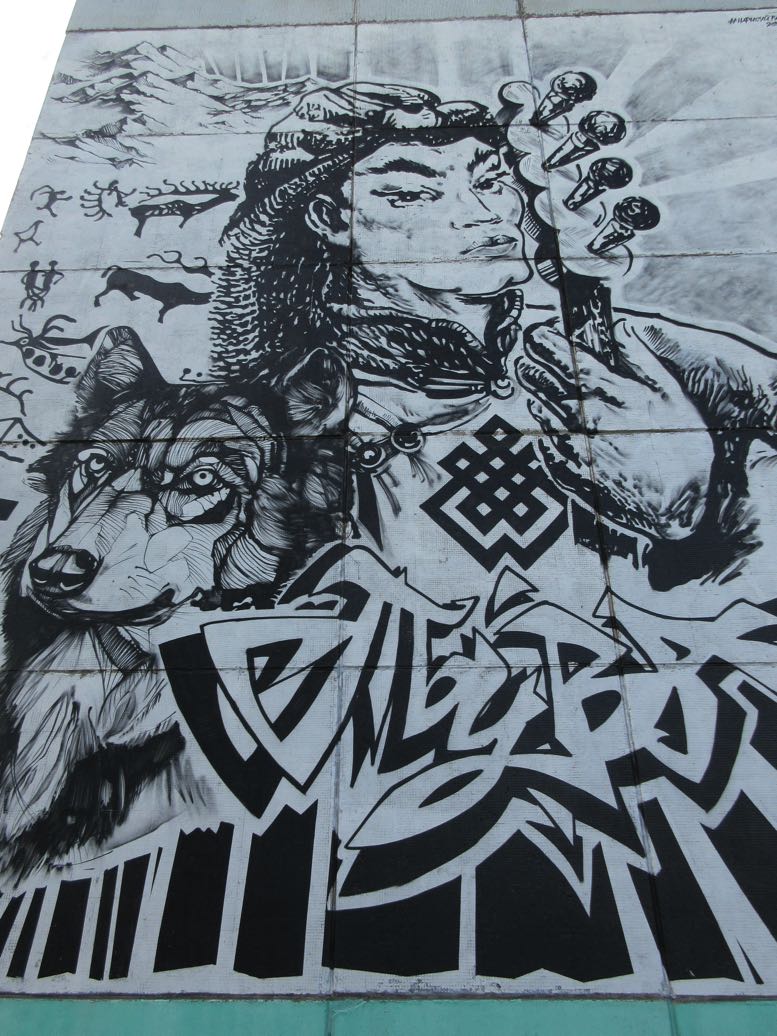 PRACTICAL INFORMATION
WHAT'S INCLUDED
– local transport from Abakan or Krasnoyarsk to/from Tuva by minibus
– usually we include the trip from Asian cities, because of the trouble and high price of obtaining tickets into Siberia on your own. We will inform you as soon as we have all the data.
– all transport in Tuva
– twin accomodation, family accomodation in some places (single upon request; this is not possible everywhere)
– all meals
– concerts and presentations mentioned in the text
– workshops on Tuvan music
– shamanic ritual and classes
– banya's (Russian style steambath), where available
EXTRA EXPENSES
Expect the following extra expenses:
– visa cost, and invitation letter for visa
– medical, travel, cancellation insurance (usually you need to buy extra insurance)
– extra drinks during meals; snacks
– personal expenses
– tips or small presents to locals involved in the tour are always appreciated
– we can help you reduce CO2 offset for your flight through Greenseat
FOOD
If you consider to join and you have certain meal preferences let us know on the form. The diet of Tuva is basically meat and fish and not all wishes may be possible to fulfill locally, but we can try to organise it. Hosts and cooks have usually done good jobs to counterbalance the sometimes very meaty menus with great alternatives.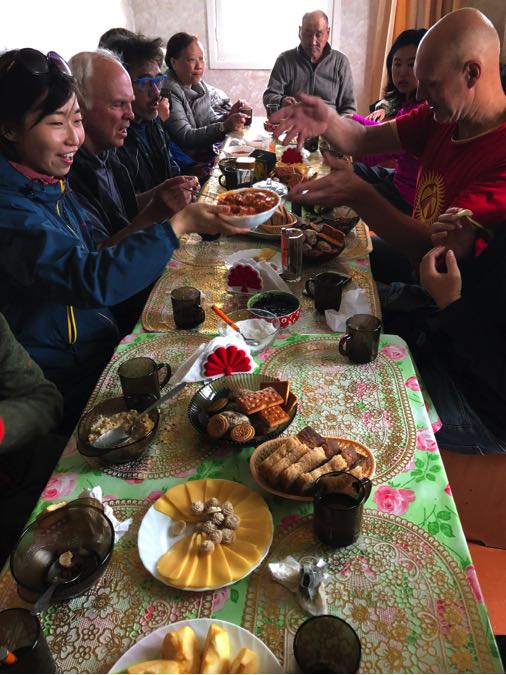 THE CORONA-VIRUS
Like all of you, we are following the news about the virus and are aware of the current risks of international travel, particularly in Asia. Here in Taiwan, an isolated island more managable than the mainlaind, the situation is very different from China and well under control. As of February 9 there are 18 confirmed cases. The general public and government are doing well to contain the virus. Russia has had three cases so far and government and general public are very much alert too.
Our travellers have been mostly Taiwanese and Dutch citizens. Taiwanese travellers used to travel through Beijing with tickets bought by us, and this is a situation we will evaluate. There are options through other cities, like Seoul, and perhaps even direct flights into Siberia starting soon. We think there is (and in any case should not be) any risk for the group as a whole. We will await further development and understand travellers might want to wait a bit before booking trips.
WHAT NEXT?
Previous tours lasted about 11 days/10 nights and included the international flights for most travellers. The current tour is 13-14 nights depending on your outbound flight. We are still putting together some information and will be able to set the price late February 2020. Since our travellers are mostly people we know (or friends of them), and for other reasons we chose not to publish the prices here.
If you are interested to join, write to us for an e-brochure with full details (about Pricing, Visa, How to Register, etc.), and to receive all updates about this Sound Journey. Even if you are just considering to join, it helps to let us know – no obligations of course!
If you have any questions do not hesitate to ask Mark:
– send an email to Mark
– write him on Messenger: https://www.facebook.com/Paraphony/
– call to Taiwan: +886(0)910382749
Or write an email to Choduraa Tumat.
Photo credit: Mark van Tongeren unless otherwise mentioned. Published under a Creative Commons CC BY-SA 4.0  license.