In his book Overtone Singing, ethnomusicologist and singer Mark van Tongeren provides a fascinating insight into the timeless and universal aspects of sound and vibration. It is grounded in decades-long studies of music, and draws upon fieldwork experiences, interviews with eastern and western musicians and the work of numerous scholars. The book presents a multidisciplinary vision on sound that runs from World and contemporary music to the science of acoustics and perception, to music philosophy and the spiritual dimensions of music. Written in a non-technical style, this book and accompanying audio CD is an indispensable guide to musicians and music lovers seeking a deeper understanding of the nature of sound.
For the second edition many small improvements have been made. The last part of the book, Quintessence: The Great Realm, has been thoroughly rearranged and expanded and is now much more 'quintessential' than it was in the first edition. The bibliography contained only books quoted in the text, and now contains other relevant titles as well. CDs are now listed in a separate discography at the end of the book, and the index has been expanded.
THE FIVE PARTS
Overtone Singing contains four largely self-contained parts, respectively called Physics, East, West and Metaphysics, and a fifth part called Quintessence.
The book's forward was written by musician, composer, doctor in ethnomusicology, advisor and friend Trân Quang Hai, who worked for forty years at the National Center for Scientific Research (CNRS) in Paris, France. You can read it here.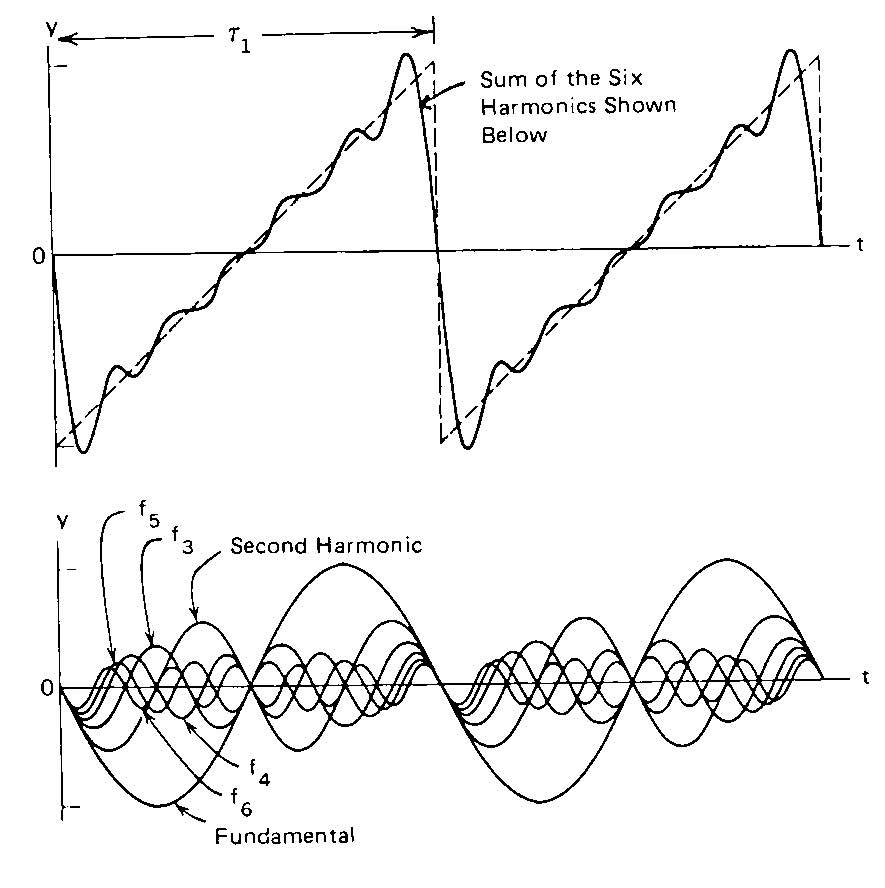 Physics deals with the acoustic, physiological and psychological aspects of sound, the harmonic series, the (singing) voice, and their importance in overtone singing. It is divided in two parts: singing harmonics and listening to harmonics.
East discusses traditional practices of overtone singing. First of all of throat singing in Tuva, South Siberia, which is where most of the fieldwork for this book was done. From here the music of various neighbouring peoples and cultures is discussed, such as Mongol throat singing and Tibetan chant. In all cases singing attention is given to many other aspects of these societies like, for example, animism and Buddhism.
The third part, West, sketches the history of overtone singing in the west, from the first steps made by composers and improvisers to the cross-cultural fusions of today. In the western world overtone singing is a relatively new phenomenon. Aesthetics, questions of beauty in the music itself, and musical invention are emphasised here, rather than the social or spiritual elements.
Metaphysics – Body, Mind and Beyond delves deeper into the philosophies and belief systems underlying harmonics, harmony and numerical ratios. Meditation, therapy, effects on body and mind, resonance and correspondances between wave lengths on various scales are some of the key words here. These issues take us back to the times of Plato and Pythagoras, and end up with new questions about the consciousness inspired by Eastern philosophy.
The fifth and final part is called Quintessence – The Great Realm. It draws some parallels and conclusions based on the ideas assembled in the first four parts. It is also a more personal interpretation based on the research of the author as a singer and musicologist.
CONTENTS OF THE BOOK
Foreword by Trân Quang Hai VI
Contents of the CD XII
Introduction XIV
Acknowledgements XVI
Prelude: Meeting with a Tuvan Shepherd XXI
PART ONE: PHYSICS
CHAPTER 1 – SINGING HARMONICS 3
The sonic warehouse 3 Vowels, timbre and harmonics 4 Speaking in chords 6 The harmonic series 8 The voice 11 Mouth shape and resonance 14 The mouth as a f1lter 16 Elementary techniques 18 Throat singing 23 High definition television: deep modes of chanting 26 Swollen veins 29 The female voice 30 Musical architecture 31
CHAPTER 2 – LISTENING TO HARMONICS 35
Harmonics at the opera (Part One) 37 Paraphony 38 The cycle of creation and perception 40 Unusual acoustic phenomena 42 Space and sound 45
PART TWO: EAST
CHAPTER 3- TUVAN THROAT SINGING 51
Three children and a bull 54 Throat singing in everyday life 56 Two Outstanding musicians-composers 58 Styles and techniques 63
A teacher and expert 66 Education: now and then 69 At the periphery of music 72 The world of spirits and sound 73 A whole gamut of wheezes 77 Throat singing in ritual contexts 79 In previous centuries 82 Live at the Bolshoi 85 Khunashtaar-ool: khoomei redefined 87 Cultural authorities and musical hierarchies 88 From Vladivostok to Havana 90 Tuvan city blues 96 The Tuva Ensemble 100 Tuva in turmoil 103 A musicallineage continued 105 Huun-Huur- Tu: Back to the roots 107 Killing him softly: women and khoomei 110 Tradition in motion 112 A concert by full moon 113
CHAPTER 4 -OVERTONE SINGING IN OTHER TRADITIONAL MUSIC 119
Mongolia 119 Epic singing 126 The Altai republic and the revival of epics 129 Echoes from the past 130 Going to Kyzyl 132 Song for the river Katun 134 Khakassia: the spirits return 136 Receiving a gift from the spirits 139 Kalmykia: epics and ideology 140 Bashkortostan: an independent case 143 Tibet: sound and symbol 145 An eye-witness account 147 Sutras, mudras and mantras 148 A tool for the mind: the harmonic as symbol 152 A different reality 153 Sardinia: the virtual voice 154 South Africa: the human voice as a type of musical bow 157 Idiosyncrasies 159
PART THREE: WEST
CHAPTER 5 -A HlSTORY OF OVERTONE SINGING IN THE WEST 165
The Tortoise, his dreams and journeys 166 Tuning up to the cosmos: Stockhausen's Stimmung 167 Trial and error: A Vietnamese in Paris 170 The 1970s: extending vocal technique l72 Michael Vetter: Zen and sound 176 David Hykes: solar winds & rainbow voices 179 The snowball effect 184 Globalisation and cross-fertilisation 186 Noah: Harmonics at the opera (Part Two) 188 Out of Tuva 191 Rollin Rachele: Harmonic divergence 193 Toby Twining: requiem for a millennium 194 Return to the source: plainchant 197 The stepchild of European music 198
PART FOUR: METAPHYSICS
CHAPTER 6 -BODY, MIND AND BEYOND 203
An unusual experience 204 Meditation 206 Christian chants and buddhist mantras 209 Harmonics in healing and therapy 211 Make your bones sing 216 The law of octaves 218 The greek legacy 220 Silent harmonics 224 music makes the world go round 225 the dance of the molecules 226 the Pythagorean attitude 227 sound as pivot 228
PART FIVE: QUINTESSENCE
CHAPTER 7- THE GREAT REALM 235
EAST VERSUS WEST
The universal harmonic 237 The non-universal harmonic 238 The spiritual dimension 239
PHYSICS VERSUS METAPHYSICS
Some thoughts about nature 243 Music and ideas about nature 245 Renewing the ancient marriage between music and physics 246
THE QUINTESSENCE OF SCIENCE, SOUND AND SELF
Paradigm change 248 A paradox for the senses 250 The fifth element 252 The Great Realm 253
Coda 256
Notes 258
Bibliography 262
Index 268
More information 271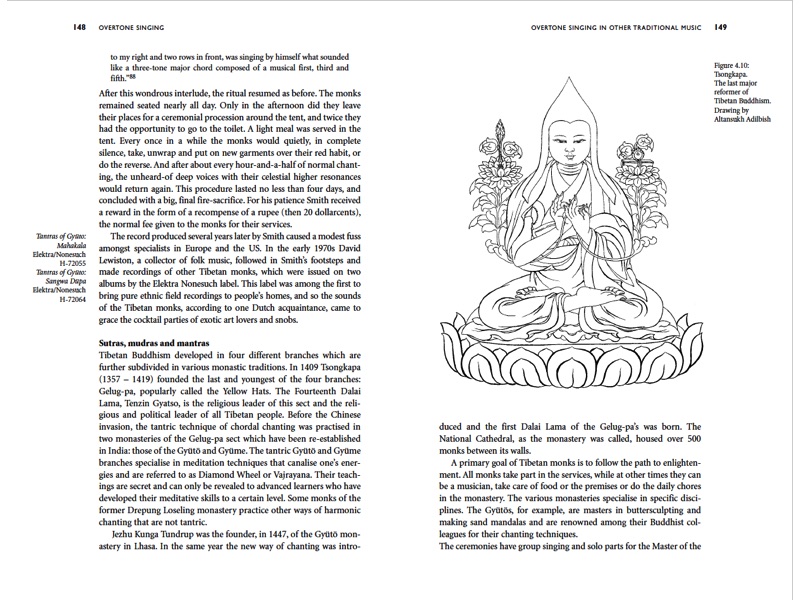 CONTENTS OF THE BOOK'S CD

The CD included in the book is not available anywhere else. It is the most complete anthology of all kinds of overtone singing styles and techniques available on a single CD.
1
Tuva
Kara-ool Tumat (with balalaika) -khoomei, sygyt, kargyraa, borbannadir (3:48)
2
Mongolia
Altai Hangai – Tavan kasag (Five Kazakhs) -song with khoomii (2:22)
3
Altai
Tanyspai Shinzhin -Fragment of epic sung with kai technique (4:10)
4
Khakasia
Slava Kuchenov -Fragment of epic sung with khai (2:48)
5
Bashkortostan
Robert Zagritdinov -uzlyau guttural technique (1:19)
6
South Africa
Nowaylethi Mbizweni and Nofirst Lungisa- duet with 'ordinary' umngqokol (1:40)
7
Tuva
Kaigal-ool Khovalyg -Kargyraa (1:28)
8
Mongolia
Ganzorig Nergui -khoomii (3:28)
9
Tuva
Andrei Opei (with chanzy) -Bazhy Betik (khoomei, sygyt) (3:52)
10
Tuva
Andryan Opei -Khoomei kak basla men (sygyt) (1:21)
11
Tuva
Andrei Chuldum-ool- Artii Saayir (sygyt) (3:02)
12
Tuva
Mergen Mongush -chilangyt (1:19)
13
Tuva
Aldyn-ool Sevek -ezenggileer (1:01)
14
Tuva
Aldyn-ool Sevek -khat kargyraa (0:56)
15
Mark van Tongeren
Five elementary techniques ( 1:09 )
16
Mark van Tongeren
The vowel triangle (1:08)
17
Mark van Tongeren
Fundamental drone (0:16 )
18
Mark van Tongeren
Parallel motion (0:14 )
19
Mark van Tongeren
Harmonic drone (0:23)
20
Mark van Tongeren
Contrary motion (0:16 )
21
Tuva
Artysh Mongush – chilandyk (0:35)
22
Tuva
Sildis, Mikhail and Chash-ool – khoomei and sygyt (2:37)
23
Kalmukia
Tsagan Zam – fragment of Janggar (3:16)
24
Tuva
Mongün-ool Dambashtai – kargyraa (1:43)
25
Altai
Arzhan Kezerekov -Imitation of the Shoor, with sygyrtyp (3:28)
26
Altai
Raisa Modorova -Blessing song (algysh) with kai technique (3:09)
27
South Africa
Nowayilethi Mbizweni -iRobhane sung with umngqokolo ngomqangi technique (1:00)
28
Tuva / the Netherlands
Biosintes and Mark van Tongeren -improvisation at the bank of the Yenisei (5:09)
29
Mark van Tongeren
excerpt  Paraphony (2:39)
30
Mark van Tongeren
excerpt  City Chess (2:46)
31
Tuva
Opal Shuluu -Playing the khomus (Jew's harp) (1:51)
32
Tuva
Kaigal-ool Khovalyg – playing the igil fiddle  – Uzun khoyug (3:24)
| | | |
| --- | --- | --- |
| 33 | (Tuva) | Electricity wires in Aryg Bazhy (2:28) |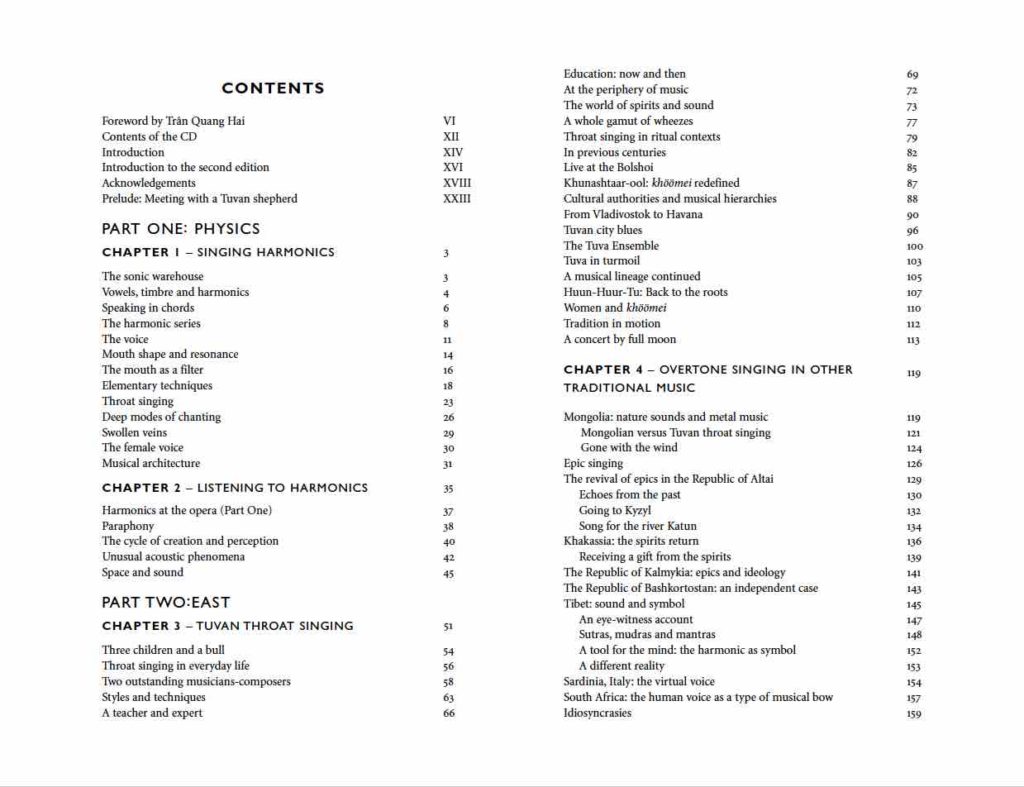 Nowadays, overtones are familiar to many people, from laymen to scientific researchers and composers. This familiarity is no doubt the result of the recent introduction in the west of a new vocal technique called overtone singing. This technique enables a singer to produce two simultaneous voices: a continuous drone and a melody of overtones above it.
The author onstage with Trân Quang Hai  in 1995 in Kyzyl, Tuva, at the International Festival Khöömei
The interest about that peculiar vocal style in the Western world began around the 1960s. Since this time there have been many specialised studies from scholars, as well as musical explorations by composers and singers. My fascination with overtone singing began in 1969. In that year the first sound documents of Mongolian throat singing were brought to Paris by anthropologist Roberte Hamayon. It pushed me towards the overtones research on the acoustical point of view first, and later towards the anatomy of the voice, questions about music therapy and the musical aspects of its performance and composition. The increasing interest of overtones in the West has further been notified in contemporary music, in New Age music, in healing with the voice, and others.

In 1995 Mark van Tongeren and I met in Amsterdam before we began our trip to Tuva, where both of us participated in the 2nd World Festival of Throat Voice in Kyzyl. At that time he had just finised his dissertation at the University of Amsterdam. It was the first extensive study of Tuvan music by someone outside the Russian Federation, carried out just after Tuva had become accessible for foreign visitors. It dealt with the history and modern practise of Tuvan khoomei or guttural overtone singing. As a singer, a collector of field recordings and a musicologist, the excellent research of Mark Van Tongeren brought new dimensions and developments of Tuvan throat singing to light. Then he impressed me with his throat singing at the festival in Kyzyl of which I was chosen as President of the Jury.

In 2001, Mark Van Tongeren released his CD on overtones with his original performances. At the same year, he sent me the manuscript of his book on overtone singing. In this well-documented book you can find, for the very first time, everything concerning overtone singing in the West, from Karlheinz Stockhausen's contemporary music to Jill Purce' healing voice; from electro-acoustic to World and other Fusioned musics; from renowned western performers such as Michael Vetter and David Hykes to great masters of overtone singing from Tuva, Mongolia and other parts of the world; from the Pythagorean harmonic system to Om chanting and New Age mantras.

Overtone singing does justice to this multitude of cultural traditions and to the countless personalities that have contributed to the development of this way of singing. It has interesting and useful things to teach to everyone who is intrigued by the mysteries of sound and music. I am happy to recommend it to all lovers of overtone – and throat singing in the world.

Trân Quang Hai

Ethnomusicologist / Composer
National Center for Scientific Research, Paris, France
FACT SHEET
Title:
Overtone Singing – Physics and Metaphysics of Harmonics in East and West
Format:
XXVI + 284 page book plus 73 minute/33 tracks audio CD
Dimensions:
230 x 150 x 20 mm
Editions:
paperback (ISBN 90-807163-2-4)
hardcover (ISBN 90-807163-1-6)
With 31 photos, 4 maps and 46 illustrations (musical examples, line drawings, graphs), bibliography, discography, index, footnotes.
A discography lists dozens of relevant CDs (including label and catalogue number) of modern and traditional overtone singing.
The CD included in the book offers the most complete survey of traditional techniques of overtone singing from various regions of the world to date. Also featured are tracks with technical demonstrations by the author and excerpts of his 2001 CD Paraphony.
Text design and lay-out: Sonja van Hamel
Typesetting: Roel Siebrands
Publisher: Fusica, Amsterdam, the Netherlands.
THE PRESS ABOUT THE BOOK
"Using overtone singing as both a music genre and a performance technique, Mark van Tongeren weaves a succesful musical ethnography that pivots on sound to engage in a cross-cultural and multi-disciplinary study of music"
"This book strategically intersperses ethnographic description with a personal field journal. Perhaps more importantly, the book brims with varying information drawn from van Tongeren's experiences as both a researcher and a performer of overtone singing."
"This book makes a significant contribution to interdisciplinary research and teaching in music. It is suitable for the music specialist who may like to use some ideas in class, and the interested lay reader who is intrigued by the expressive phenomenon of overtone singing."
– Asian Folklore Studies, LEE Tong Soon
"Thorough and readible guide…Nothing less than a panoramic view of overtone singing… Excellent CD…"
– The Wire, Michael Ormiston
"Irresistable book… full of refreshing insights" – Read the whole review here [MS Word document, 23 kb]
– ESEM-Point, Frank Kouwenhoven
"…extremely well informed.. and, from what we hear on the CD, van Tongeren is one of the most talented and beautifully effective harmonic singers in the world"
– Music Works, Randy Raine-Reusch