Last night fellow Dutchman Jaap Blonk arrived in Taiwan for a couple of gigs and a workshop, as part of the first Taiwan International Improvised Music Festival. I have the honour to host him the first few days. Several local improvisers and I will share the stage with him, today in Hsinchu and Thursday in Taipei.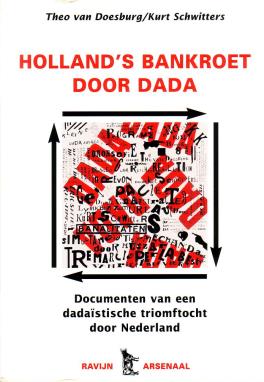 Jaap is a composer and vocal artist, best known for his interpretation of Kurt Schwitter's Ursonate, one of the founding – and lasting – classics of the Dada movement which shook the art world between 1916 and 1924. I first met Jaap in 1995, when we shared the stage at the presentation of a book about Dada in The Netherlands, Holland's Bankroet door Dada.
Last night we discussed, among many other things, the merits of being born as a Dutch-speaker. To start with, this makes it easy to understand and correctly pronounce German texts, and texts derived from the sounds of German speech, like the Ursonate. Someone from, say, an English speaking country, would have much more trouble getting the pronunciation of all the vowels and diphtongs (two vowels combined) right, not to mention the consonants (the guttural ones are particularly notorious for foreign speakers). And growing up in a small country like The Netherlands, it is almost natural for us to learn to speak the languages of the surrounding countries, so that many Dutch speak (and know the particularities of the sounds of) German, English and French. In addition, Jaap noted, we have all the varieties of the 'r' sound (we have a guttural r, a softer and a harder 'velar' r, and an r with a flapping tongue). Jaap has incorporated many of these speech elements in his sound poetry, which is sometimes based on actual spoken language, sometimes on his own imaginary language, and also on abstract procedures based on or derived from speech, extending, finally, into various musical/sonic dimensions such as breath, shrieks, groans, etcetera. Besides composing and performing with these elements and developing a sizable body of original works, Jaap's stage presence and inimitable mimicry has brought him world fame. His current tour in Thailand, Vietnam, Malaysia, The Phillipines and Taiwan is the second one in Asia, after another tour he did in Japan last Summer.
He told me he had performed in Shanghai years ago at a poetry festival, where he was asked by the organisers to do something with a Chinese text. He studied the text with someone speaking Chinese, to get the sounds right. But then, when turning it into sound poetry and given the difficulties of the Chinese tone system for a speaker not used to a tonal language, the poem's meaning came out completely different, possibly, Jaap explained, including many strange messages he was not aware of.
Besides, it is a different thing to deconstruct the elements of speech for a Westerner, whose understanding of speech sound is based on more or less phonetic writing, and for a Mandarin speaker, whose understanding of speech sound is based on Chinese character forming complete syllables – in fact, complete words. To create sound poetry à la Schwitters poses even bigger challenges for from Mandarin speakers than English speakers.
December 1, 19:30, concert of Jaap Blonk, with guest appearances of Lee Shih-Yang and Mark van Tongeren, National Chiao Tung University (Hsinchu),
December 2, 19:30-21:30. lecture/workshop with Jaap Blonk, Nanhai Gallery, No.3, Lane 19, Sec. 2, Chongcing S. Rd., Zhongzheng District, Taipei
December 3, 19:30-21:30, concert Jaap Blonk with Tung Chaoming, Lee Shih-Yang, Lin Hsiaofeng, Lin Huikuan, Liu Fangyi, Chang Yousheng, Terry, Mark van Tongeren. Nanhai Theater, No.47, Nanhai Rd., Zhongzheng Distict, Taipei
Tickets for the festival are here.
More information about the full program of the Taiwan International Improvised Music Festival is here.