The concert that is the main feature of this year's Taiwan International Improvisation Music Festival (#IV) is all about the creative challenges you get when you have to deal with certain technical shortcomings. In this case: the time lag of the internet when you play music together. In everyday life this happens when you speak on apps like Skype with someone and the response time gets too long. This special kind of delay is called latency in technical terms. In such conversations, videochats or other online communication it is always there, but nowadays it is often so short that you (almost) don't notice it – until you are in that neighbourhood where your mobile operator's coverage is very poor.
Now that musicians everywhere flock to Zoom and similar media for collaborations, it is clear that most musics can satisfactorily be broadcast one way (musician(s) to listener) but that real-time collaborations for most projects fail due to the impossibility of synchronising temporal structures. The question arises what musical materials can be created that are relatively undisturbed by the latency phenomenon, unaffected by it or even entirely built around latency. After some trials, a group of artists from Taiwan and The Netherlands explore this possibility head-on and present it live.
The Latencies Project
For this project, these musicians explore the musical challenges and solutions that are the inevitable result of two-way online improvisations. 'Latencies' refers both to 'latency' and to 'latent' sounds, that is, sound structures implicitly embedded in the nature of sound signals shared between musicians and arriving with a time lapse. It also explores sound structures emerging out of unpredictable, uncontrollable situations. I got inspired to search for the creative challenges of this problem of latency, and wanted to see (and hear, of course) what interesting new sounds and musical structures could be exploited when you have to work with a time lag.
The chance elements due to a fluctuating, unpredictable lag in sound signals translates, for me, to 'latent' musical possibilities, rather than the usual impossibilities in most rhythm/pulse-driven musics (when a drummer in Tokyo wants to play online with a rhythm guitarist in Madrid, the latency of normal apps like Zoom or Skype will cause them to be out of sync all the time). In trial sessions during the first wave of the pandemic (Summer 2020), Oorbeek's members in The Netherlands/Belgium played live online with musicians in Taiwan, using game piece structures. In other sessions, free improvisations were spun out in which the live sound on one location was expanded with near-simultaneous live playing on the other side of the Eurasian plateau.
Now the moment of truth is near. Just a few days and we will know if we can do a half set (the 2nd half) with the other musicians thousands of miles away, or if the sound becomes a mess. This challenge is so different from the other creative problems I have encountered. Can we live up to the expectation I had, now almost 1,5 year ago, that making music online with two bands is worthwhile for a concert? Two weeks ago we did a trial session. Pretty simple, we have no big budget to ask a technical company, but we use a fantastic software tool called Jamulus, that is exactly designed for online music making. I first used it for monthly classes I teach here in Taiwan: in fact my students came up with it when we had a temporary lockdown in Taiwan. During the latest cross-continental test one of them, our technical supporter Sky Tseng, fiddled and tweaked for a while, and then it really was like the music from Amsterdam was played in our rehearsal space in Taipei. Not at all a lo-fi sound but proper bass and guitar, and a time lag that we could play with. So at this point I feel I can confidently recommend everyone to have a listen this Sunday.
The musicians:
Lee Shih Yang – piano
Minyen Hsieh – saxophones
Sayun Chang – percussion
Mark van Tongeren
For this occasion I am in a double role, reinforcing Shih-Yang's group KaDaoYin which is missing members. So I'll be playing 'against' my own Oorbeek members and introducing several of our conceptual/game pieces to the players here.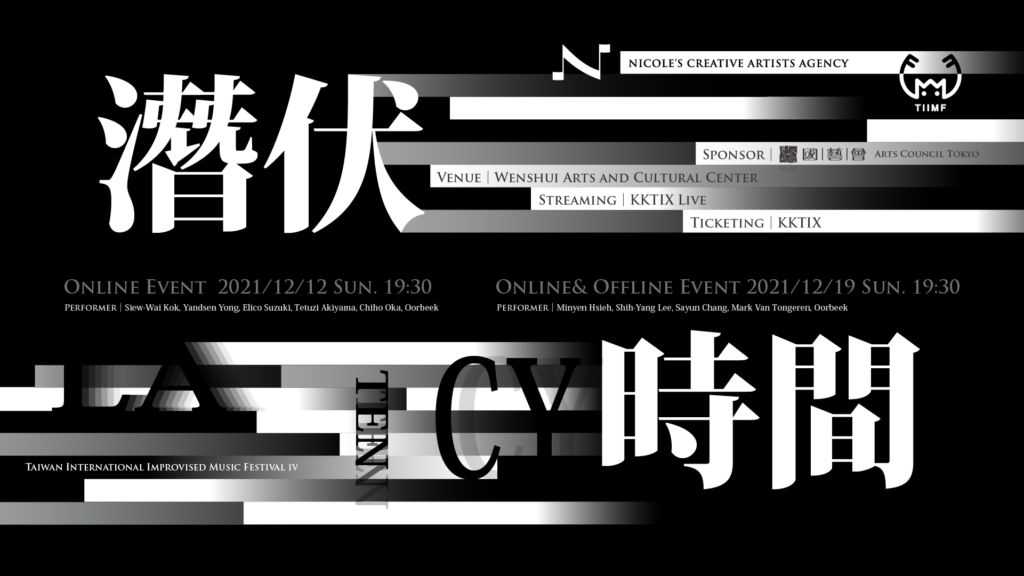 The Taiwan International Improvised Music Festival 2021
LIVE on Sunday December 19
from Taipei (19:30 local time)
& Amsterdam (12:30 local time)
LIVE event in Taipei details:
線上+線下專場- 2021/12/19 19:30 (線上活動19:00入場) (GMT+8)
線上直播票:$250
線下票:預售票$500 / 全票$550
演出者:謝明諺、李世揚、張幼欣、馬克‧范‧通格倫、耳流即興樂團
活動地點:文水藝文中心沙龍廳(104臺北市中山區南京東路二段124號9樓)
Online tickets – watch anywhere around the world:
https://ncaa.kktix.cc/events/487ab9bb?locale=en
Some months before this concert we held a talk in Taipei with Arie Altena joining online, as a first long-distance meeting. We had three very interesting perspectives. Arie was talking about differences in microtiming when musicians play in the same room (I had never thought about that, really); about stretching the beat by King Tubby, and Charles Mingus playing before the beat, while Lester Young played after the beat; and about Pauline Oliveros exploring delay and even saying 'we (humans) are delay.' Shih-Yang discussed canons in the music of Pachelbell, Bach, Nancarrow, Ligeti and Tenney. I gave examples of German yodeling and the Pashtaai ritual of the Saisiyat tribe, where there are constant shifts in overlapping temporal structures.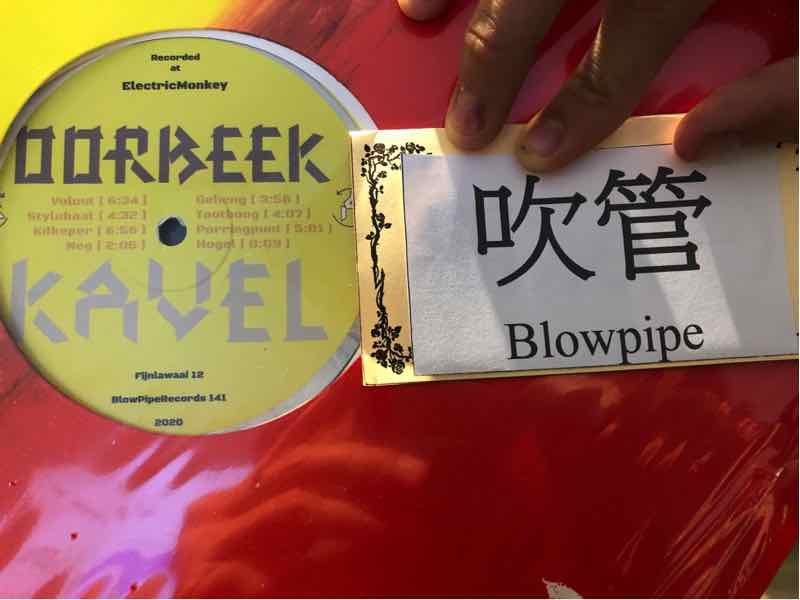 Oorbeek also contributed footage for a video event, of which you can see a screenshot here. The video will be completed next year by Lee Ellickson, who filmed the Oorbeek members.
Latest news
In a strange twist of events, the necessity of playing in lockdown seemed to have passed last Summer when we received the green light for Latencies from our Taiwanese funding body, through organiser Nicole' Creative Artists Agency. Late August 2021, a live performance with audience on both sides seemed possible. But right now, with a new lockdown in The Netherlands, the maximum number of people that can gather is once again severely restricted: back to four – exactly the number of Oorbeek members taking part in this long-distance meeting. In fact, writing the day before the concert, a complete lockdown for tomorrow is even on the table, which might force our four musicians to play from their own home, for which some of them do not have the proper set-up with mics, audio interface and software tools. A quite bitter turn of events, going back to how this whole idea started in the midst of the first global waves of the pandemic.
Nothing New
As it turns out, there is nothing new in my fascination with latency: Edwin van der Heide, a Dutch multimedia / sound artist, explored it already in the 1990s, and our own Arie Altena, on his website, discussed French and American musicians trying it out as early as the 1980s.
Latency now between Taipei and Amsterdam: about 250 ms.
Latency then, between Paris and another city in Southern France: up to 4 minutes.
The latency times they are a-changing.