This weekend a new work by Chinese-German composer Yang Song in which my voice and Jew's harp are featured, will have its world premiere: In Einem Moment – 须臾. The piece features orchestra and tape, as it is often still called, meaning pre-recorded audio played back during the live performance. Yang Song studied electro-acoustic composition and created an 8-channel version with spatial and some digital effects superimposed on the voice and instrument recordings. Among the recordings are not just pieces of throat singing (khöömii or khöömei), but also vocalisations inspired by a special genre of folk song I have practiced in a free style for many years: Mongolian long song or urtyn duu.
The timing of the invitation, some four months ago, was auspicious, because I had just began to delve deeper into the Mongolian long song genre with the intention to include it in my live repertoire. So a month or so earlier I picked up a book plus CD I had bought in Mongolia but never properly studied: Alain Desjaques's Dix-Huit Chants Mongols Dzahtchin et Ourianhai. (If this sounds familiar to some readers, I wrote more about that in this recent blogpost.)*
While I was working on that material, Yang Song got in touch with me through a common friend, Frank Kouwenhoven, of CHIME in Leiden. Song grew up in Inner-Mongolia, part of the PRC, from partial Mongolian parentage, but in a Chinese-language environment. In the program notes to her piece, she admits that she is familiar with traditional Mongol music and yet not really used to them. "In my family Mongolian blood flows; I was used to be surrounded by Mongolian music in various formats, even though I did not understand the lyrics."
The question was if I could provide a number of different techniques of throat singing / overtone singing, Mongolian long song, and Jew's harp, to use as the ground material for her electronic composition and the orchestral piece. I wanted to oblige, as her music immediately appealed to me and our first conversation made clear we had many things in common aesthetically. At the same time I was a bit confused: Why Me? Wouldn't it be easier and more logical to ask a musician from Inner-Mongolia to provide the basic tracks for her piece? Even though I am a Dutchman living in Taiwan, and she is a Chinese Mongol in Germany, we had a similar proximity, or rather: distance to the music that inspired her. Noticing that this was apparently what she wanted (someone with a certain distance to the living source of Mongol traditional music) I put the question aside and started to work.
I sent her my updated and expanded Anthology of Overtone Singing: a selection of my field recordings from traditional of overtone singing plus several of my own pieces and demonstrations (and which will be published soon as the 2022 version of my book Overtone Singing is in its final stages of publication). She sent me back samples of it and of recordings she found on the web. We agreed to work on 7 short pieces of about 30 to 90 seconds. Although initially it seemed she wanted to let me improvise, over time her ideas became more fixed. She wanted to let the orchestra sing or recite some of the long song syllables, so she ended up needing fixed lyrics. I then wrote lyrics inspired by Mongolian phonemes (I only speak a few words of Mongolian and do not want to make a fool of myself pretending I can sings ongs in fluently Mongolian). She also set out the rhythmical structure, fundamental notes and durations for my parts, all of which I recorded in a studio.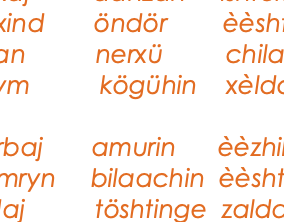 I am curious about the result but will not be able to hear it in its full 8-channel form with live orchestra. If you are near Saarbrücken, please go and listen for me – at least Frank Kouwenhoven will be there to give his account of how it sounded! Since this is a radio concert, I think it will be live on the radio too this Friday.
May 20, 2022, 19:00
Benjamin Britten
Variationen über ein Thema von Frank Bridge für Streicher op. 10
Yang Song
"In einem Moment – 须臾"
Uraufführung / World Premiere
Benjamin Britten
Violinkonzert d-Moll op. 15
German Radio Philharmonic. Conductor: Martyn Brabbins.
Website Link: Saarländischen Rundfunk Saal, Saarbrücken/Germany, 20th May 2022
Live broadcast:
Sendetermin | 20 Uhr zeitversetzt auf SR 2 KulturRadio
Künstlergespräch | 18.15 Uhr
Program booklet (in German)
https://www.yang-song-composer.com/
* Alain Desjaques' book title is a reference to an earlier collection of songs and poems assembled by a Mongolian princess, Dix-huit chants et poèmes mongols, published 1937.