This album marks the official ending of a long period of doubt and uncertainty what to do with my music in light of the music industry. Basically, I have been slow, very slow, to catch on with the possibilities of the internet, and apparently refused to make up my mind. The first signs of dealing with it has been to launch some videos on YouTube, including a live concert with Sinan Art. Now, here is my next step: the first physical release of new music made just by myself in some twenty years (besides collaborative projects such as Oorbeek, Parafonia, the Superstringtrio and ad hoc projects such as the Odna soundtrack). I have about a dozen of other releases in the pipeline, partly new, partly old, some of it by me but mostly collaborations, spanning many kinds of music and sound-art.
I had some ideas for the design, starting from the excellent photography of Yi-Jin Hsieh. I decided to use one of her photos and then to turn everything upside down/inside out, with a nod to Chinese writing, which used to be vertical and starts where our Indo-European-language book(let)s normally end, folding open to the right instead of left. So the Chinese cover of the printed album is intentionally the negative and upside down version of the English cover. UN-intentionally the title of track 2 (a kargyraa solo in Tuvan style) somewhat related to this turning around of things, as you see here (I only realised this when I took the photo):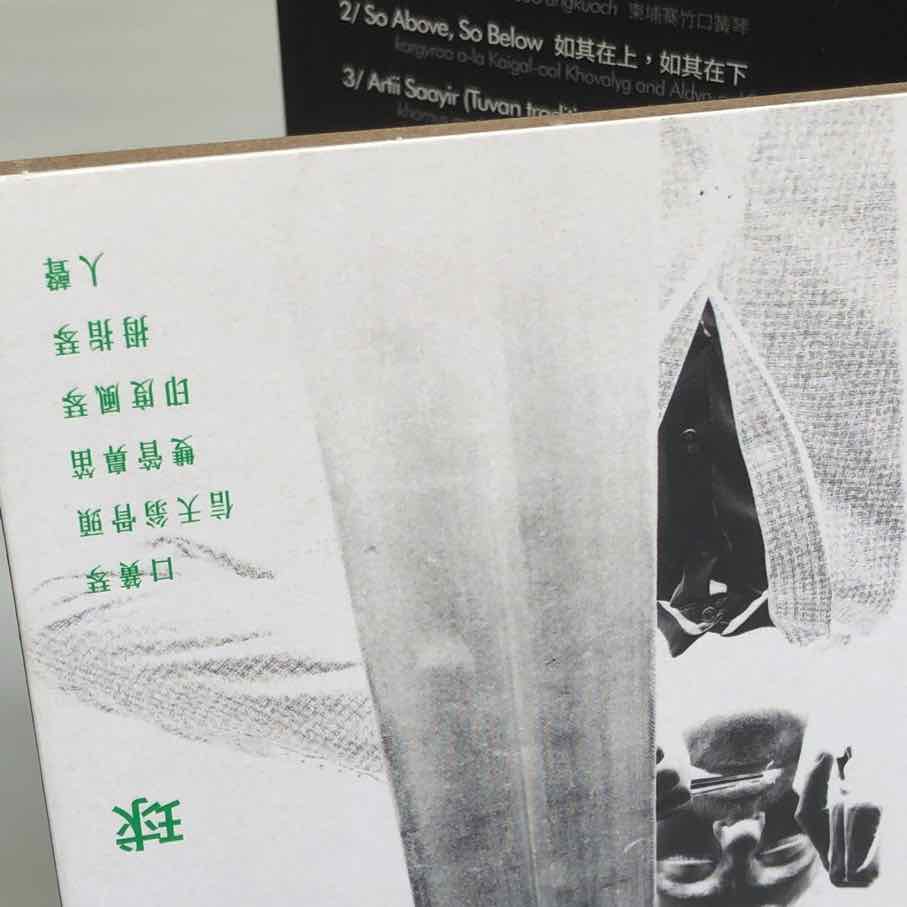 JiJi Liu quickly  jumped in to turn my design ideas into proper InDesign-shape that printers need, took care of many details, and suggested to use cardboard instead of a digipack, a great improvement. Our CD agent, named Rush Blood, was not trying to push for a quick and easy fix, he also loves all these details. He does photography, calligraphy and together we went to check the first test plates as they rolled off the presses. The smells and sounds brought me back to my childhood when I joined my dad, the architect, to fetch all kinds of print-work. I inherited a great love of paper, carton, printing, binding etc. etc. from him and truly enjoy getting back to publishing something palpable and beautiful.
To check out the album details go to my brand new Bandcamp profile. Bandcamp is the place where I buy more and more music, streaming/digital and sometimes as a 'hard copy' (CD or LP). It brims with creative output in many genres and is the platform that is really supportive of artists. The release date of my album, Friday September 2, 2022, happens to be Bandcamp Friday, the day they pay an even bigger share than usual to their artists. If you want to order the CD, the added advantage of Bandcamp is that you automatically get unlimited access to the streaming and audio files on Bandcamp. This would require another step if you order the CD directly from me – but if you prefer that, then just drop me a line and I'll be happy to help you get it to you and sort out how to do that. And do note:
First weeks: free shipping around the world – saves quite a bit I would say.
Also: second CD half price.
If you are curious about future releases you can also go to Bandcamp to sign up for new releases, you'll probably be notified well before the release date. Even better: become a Bandcamp member and write a line or two about this album (… if you like it…).