Voor nederlands even naar beneden skrollen.
Here is a letter I wrote earlier this year when I was about to turn 50 (want to get on the mailinglist too? let me know!):
I love the number 49 and its symbolism. Much better than 50. So I prefer to send out a shout to everyone on the last day of my 49th year in which I am walking on this strange and wonderful place called earth, rather than on the first day of the 50th year. My dear sister Daphne somehow knew I wanted to celebrate while I was still 49, when she organised a surprise party for me several months ago. I completely and totally bought it, even after my mom and two friends showed up in a park where you would not expect that. What a great present!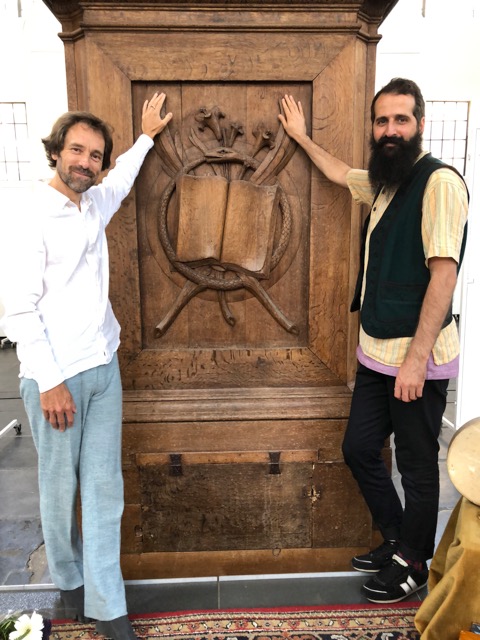 And then the Tuvans, for whom 49 is a special number, play their magic on me too. Tuva and its inhabitants have shaped my life in many ways. When I was halfway on to this point of my life and getting close to 25 years old, I first visited Tuva and fell in love with the place forever. 12 Years later I visited Tuva with June Wen, and it was then and there that we found out that we are destined for each other. That led to our marriage, to our kids, to me moving to Taiwan. Life-changing experiences in which Tuva seemed to play a role.
And right now, guess what? Earlier this year I began organising several Tuvan concerts here in Taiwan, and I was asked to curate two different acts for the Asian Pacific Traditional Arts Festival. And today (last day of 49) the first Tuvan group, a young quartet called Ezengi, has just finished their job (which they did very well) and returns to Tuva. And tomorrow (first day of 50) four fine senior musicians arrive from Tuva to Taiwan for this weekend's performances: Shonchalai and Nachyn Choodu, Andrei Öpei and Valerii Mongush. Coincidence?
And then, there was this other coincidence this year. When I fist visited Tuva I learned about a Scythian ornament found during archaeological excavations, consisting of a panther biting its own tail. A wonderful symbol of infinity and the ever-repeating cycles of events. "Ma fin est mon commencement" ("my end is my beginning') as mediaeval poets and musicians such as Guillaume de Machaut knew so well. This spring a very noble and inspiring friend, the philosopher Fons Elders, sent around a message with his view about this symbol, which is known as the ouroboros in the western world. A little later I performed in the Oosterkerk in Amsterdam with the wonderful Turkish ney player Sinan Arat, a concert I had arranged to be filmed so that I could share it with everybody. In the background of our stage happened to be . . . an ouroboros. So a few days ago, while working on the video I decided to call it "The Ouroboros Concert". The next day I took the Tuvans to the Pacific Ocean – Tuva being very far removed from any sea or ocean. They decided to try surfing and that's how I noticed the Scythian ouroboros tattooed on the arm of Anchy Damdyn. What a great idea! The first time ever I imagined I could have a tattoo too.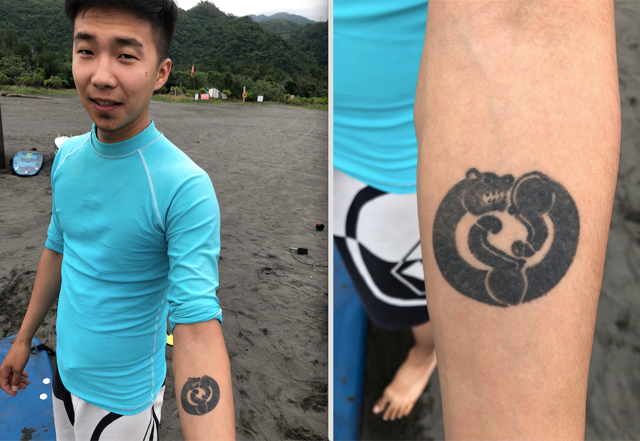 So by way of celebration and to express the gratitude I feel for being a human amidst so many wonderful human beings I share this Ouroboros concert video with you.
Nederlands
Hier is een brief die ik onlangs rondstuurde, toen ik op het punt stond 49 te worden (ook op de mailinglijst? laat het weten!):
49 Is een prachtig getal met een prachtige symboliek. Veel beter dan 50. Dus stuur ik een groet aan iedereen op de laatste dag van de 49 jaar dat ik op deze vreemde, wonderlijke planeet rondloop, in plaats van de eerste dag van mijn 50e. Mijn lieve zus Daphne voelde kennelijk al aan dat ik liever even stil sta bij mijn leven op mijn 49e, toen ze een surprise party voor me oganiseerde enkele maanden geleden. Ik stonk er totaal in, zelfs nadat mijn moeder en enkele vrienden spontaan opdoken in een park waar je hen toch niet 1-2-3 samen verwacht. Wat een geweldig cadeau!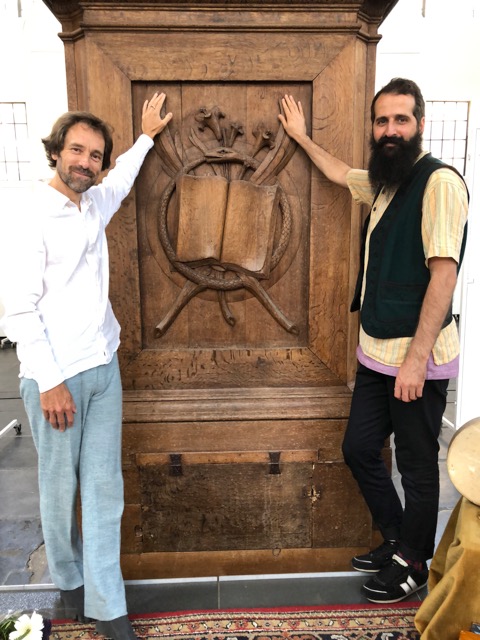 En de Toevanen, voor wie het getal 49 ook speciale betekenis heeft, duiken ook weer op haast magische wijze op. Zoals jullie weten hebben Toeva en haar inwoners mijn leven op allerlei manieren vorm gegeven. Toen ik halverwege het punt was waar ik nu ben, dus bijna 25 jaar oud, bezocht ik Toeva voor het eerst en raakte voorgoed verslingerd aan deze plek. 12 Jaar later ging ik naar Toeva met June en we ontdekten, toen en daar, dat we voorbestemd waren voor elkaar. Dat leidde dus tot ons huwelijk, kinderen en tenslotte mijn verhuizing naar Taiwan. Nog een levenswending waar Toeva haast een sturende hand in leek te hebben.
En wat is er nu aan de hand? Ik begon eerder dit jaar een aantal Toevaanse concerten te organiseren hier in Taiwan, en werd onder andere verzocht twee programma's in te vullen voor het Asian Pacific Traditional Arts Festival. En vandaag (de laatste dag dat ik 49 ben) vertrekt de eerste Toevaanse groep, een jong kwartet genaamd Ezengi (nadat ze zich trouwens uitstekend gekweten hebben van hun taak). En morgen (de eerste dag dat ik 50 ben) arriveren er vier geweldige senior musici uit Toeva: Shonchalai en Nachyn Choodu, Andrei Öpei en Valerii Mongush. Toeval?
En dan was er nog iets dit jaar. Toen ik Toeva voor het eerst bezocht leerde ik een Scythisch ornament kennen, dat bij archeologische opgravingen gevonden was en dat bestaat uit een panter die in zijn staart bijt. Een prachtig symbool van oneindigheid en de eeuwigdurende cycli van gebeurtenissen. "Ma fin est mon commencement" zoals middeleeuwse dichters en musici als Guillaume de Machaut heel goed wisten. Dit voorjaar stuurde vriend en inspiratiebron Fons Elders een bericht rond met daarin zijn visie op dit symbool, dat bekend staat als oeroboros in de westerse wereld. Iets later trad ik op in de Oosterkerk in Amsterdam met een geweldige Turkse ney-speler, Sinan Arat, een concert dat ik liet opnemen op video (en waarvoor je de link onderaan vindt). Juist achter ons podium bevond zich . . . een mooie uit hout gesneden oeroboros. En dus besloot ik een aantal dagen geleden toen ik met de video bezig was om ons optreden Het Oeroboros Concert te noemen. De volgende dag (afgelopen zaterdag) nam ik de Toevaanse musici mee naar de oceaan (waar de Toevanen verder van verwijderd zijn dan zo'n beetje wie dan ook ter wereld). Ze wilden graag gaan surfen en zo ontdekte ik de tatoeage van zo'n Scytische oeroboros op de arm van Anchy Damdyn. Wat een geweldig idee! Nooit eerder had ik ook maar een seconde de gedachte gekoesterd dat een tatoeage voor mij zelf ook best interessant kon zijn.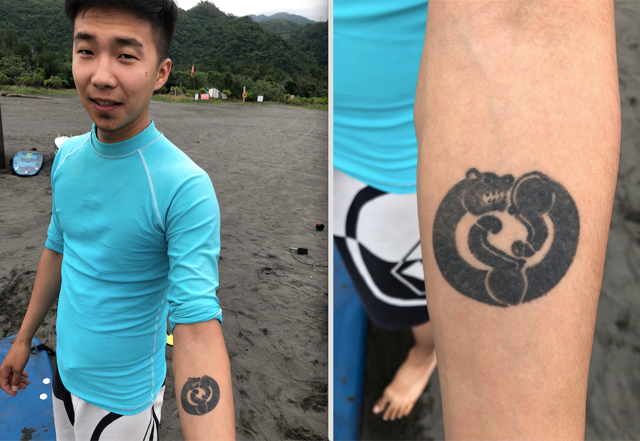 Dus om even stil te staan bij dit bijzondere moment in mijn leven en uitdrukking te geven aan de dankbaarheid om een mens te zijn te midden van allerlei fantastische mensen met wie ik mij omringd weet, deel ik nu deze Oeroboros concertvideo met jullie.