For English scroll down, or ask for digital brochure by mailing us.
聲音的共鳴 年度工作坊
2017 – 2018
探索人類聲音隱藏的淺能—用泛音跟新的音質來創造音樂; 以新的方式傾聽世界以及自己的聲音; 用自己的聲音作為轉變與進行更有效的表達的工具。
「透過呼吸與聆聽身體及環境中的共鳴我們展開一段不可思議的巡禮,發掘創新與治療的潛能。」
馬克.范.湯格鄰
「最令我們感動的是老師的帶領方式…不著痕跡、有洞見地、循序漸進、有創意、好玩且即時。滿心誠摯的感謝。」
Una Kao
【自己,自己的聲音,與自己的存在】
要如何找到自己的聲音? 要怎麼做自己? 要如何不再做自己,而成為另一個人? 另一個你想成為的人?
要如何感覺自己整個存有共鳴,活著的,完整的……對自己的存在感到自在,可以在他人面前展現真正的自己? 和其他可以做自己的人相會;不用特別有禮貌或是維持外表的和諧?
在德蘇(Mark van Tongeren)的聲音的【共鳴】課程中,音樂—特別是人聲—會是幫助你達到以上目標的工具。探入你的靈魂深處,顛覆你的心思跟想法,甚至改變你的物質身體。把「一個人自身」不同的「部份」重新結合,化為一個能夠共振的整體;成為一個震動、脈搏和頻率的交響樂。
泛音演唱技巧是本門課的訓練基礎。泛音就像是你的聲音音色中,自成一格的小世界。你會浸淫於基礎泛音序列的音樂性聲音。我們會一次次的改變我們聆聽以及發聲的方式,以開啟泛音和泛音序列隱藏的層面。實際訓練方法將以帶實驗性和個人化的方式進行、使你能夠更自由地表達自我,運用你聲音中本自俱足的豐富音色。
《招收對象》
我們歡迎各種背景的人來參加【共鳴】課程。前學員有上班族、老師、藝術學校的學生跟創意工作者;也有電腦專家、瑜珈老師跟對聲音有障礙的人;也還有熱愛蒙古與圖瓦呼麥的男歌者,和受古典訓練的女高音。這個課程開立給任何對聲音的創造性有興趣;在生活中尋求平衡的現代人。不須任何音樂背景。不過,已經參加過幾個泛音課程的學生也還有很多可以學。如果你還在猶豫,歡迎聯繫我們來問問題。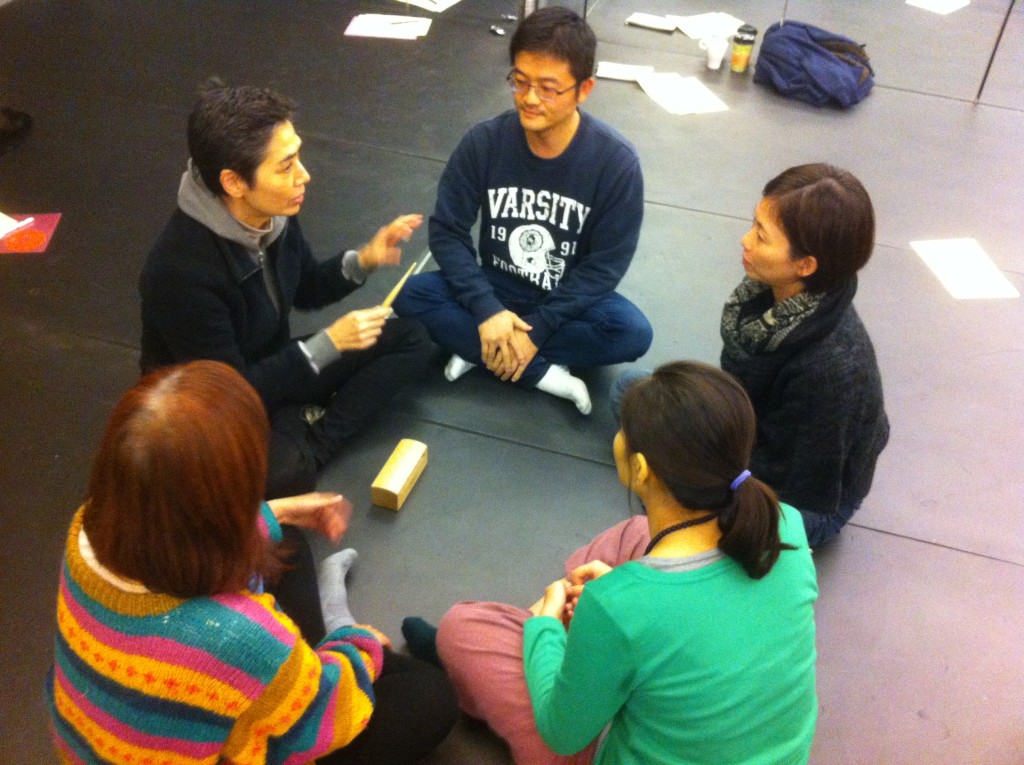 【授課語言】
本門課老師以英語授課,你的中文翻譯,陳亮伃,會依照需求重點式或整段翻譯。
【收費、折扣、與優惠說明】
【共鳴】工作坊(十堂課)學費總計17,500 NT$。
請於開課前完成繳費報名。
符合以下條件者得享優惠方案(折扣不重複)
*在學生與超過65歲年長者享75折優惠。
*早鳥優惠: 85折,請於10/20前報名
時間: 2017年12月 ~ 2018年4月
每月間的星期六10:00 am~17:00 pm,共十堂課。
詳細日期請見FUSICA官網行事曆 https://www.fusica.nl/
免費試聽課程: 2017年11月3日
星期五晚上19:00pm~21:30pm
地點:肯園香氣私塾教室
台北市復興南路二段151巷3號4樓(近捷運「
科技大樓站」)

課程對象:音樂人,演員,講者;治療師,療癒工作者;任何在生活中尋求平衡的現代人。
好奇嗎?請來電或來信了解詳情、索取課程簡章、日程&學費說明。
中文報名請洽: ly.sunny.chen@gmail.com / 0912-024-285 陳亮伃
英文報名請洽: info@fusica.nl / 0910-382-749 Mark van Tongeren
講師:
德蘇(Mark van Tongeren)是一位聲音探險家,長期關注藝術與科學領域之間的協同作用。作為一位自學而成的音樂家,他參與多項戲劇、音樂與舞蹈製作和錄音。為荷蘭萊登大學表演藝術學博士。現任國立政治大學講師。
www.fusica.nl/biography
「與聲音同在為我帶來這麼多的喜悅。我在這裡找到我的自我。我應該要唱出來,為你而唱,讓你知道你帶給我有多少。」
新竹的Sky
「很喜歡聲音自由地、自發地流出的狀態。我雖是唱者,同時我也是聽者。我聽著聲音從我的口中流出~自然的流出~聲音是靈魂的語言,有些東西無法用語言和文字來表達。我覺得泛唱可以打開許多未知和不可知。」
三重的Amano
「這兩年接觸了聲音瑜伽和共鳴,老師的溫和及不急不徐,讓我願意嘗試,運用這個身體和聲音,可以打開一個更大的世界,而吵雜的噪音也可能變得有趣。只要用老師引導的方式,回到身體、進入呼吸之流,不費力的,緊張逐漸卸下。一旦人放鬆了,心也開始變得自由,遊戲本能甦醒,就讓自己的聲音成為聽見自己的陪伴。老師的無為而為又溫柔堅定的帶領,讓我碰觸對喉嚨和身體的緊縮,於是知道怎麼讓它再度打開。」
台北的Nancy
Explore the hidden dimensions of the human voice.
Make music with overtones and new timbres.
Listen to the world and to yourself with new ears.
Learn how to use your voice as a powerful tool for transformation and better communication.
By taking time to breathe and to listen to all the ways in which the body and the world resonates, we open up an amazing path of discovery and creative, therapeutic learning. – Mark van Tongeren
What impressed us is the way of your teaching … subtle, perceptual, respective, creative, fun and updated. Thank you sincerely. – Una Kao
YOU, YOUR VOICE, AND YOUR BEING
How to find your own voice? How to be who you are? How not to be who you are, but to become someone else? Someone you wish to be?
How to feel your whole being resonating, alive, complete …. to feel at ease with yourself, and to be completely YOU while in the presence of others? To meet others around you who can also be themselves, without acting nicely, or keeping up appearances?
In Mark van Tongeren's R E S O N A N C E course, music, and most of all, the human voice, is the foremost instrument to achieve precisely that goal. To reach into the greatest depths of your soul, to stir your mind and your thinking, even to change your physical body. To bring all these disparate 'parts' of 'a single self' together in a fully resonating whole, a symphony of vibrations, pulses, frequencies.
The backbone of this training program is the overtone singing technique. Overtones are like a world of their own residing within the timbres of your voice. You will deeply immerse yourself in the fundamental harmonic laws of musical sound We will come back again and again to change the way we listen and vocalise, opening up to the hidden dimension of overtones, the harmonics that our voices and ears know well but our minds know not. In an experiential and personalised way you will learn to express yourself better, using a fuller range and spectrum of your voice.
FOR WHOM?
We have welcomed all kinds of people in the R e s o n a n c e course, from white-collar workers and school teachers to art students and creative professionals, from computer experts to yoga teachers and people with voice problems, from male afficionadoes of Mongolian and Tuvan khöömei to classically trained soprano's.
This course is aimed at anyone with an interest in or sensitivity for sound as a creative principle. and those seeking more balance in their live.
No previous musical experience is required. For students who have already done one or more workshops of overtone singing there will still be plenty to learn. If you are in doubt, contact us with your questions.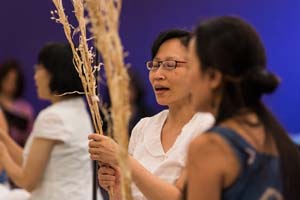 LANGUAGE
The course will be mostly conducted in English. Your interpreter Sunny Chen will summarise or translate entire parts of the course into Mandarin, depending on the needs.
PRICES, DISCOUNTS and BENEFITS
The price per participant is 17.500 NT$ for ten classes. The following discounts apply (only one per person):
* Students and seniors with valid identity cards for the duration of the course: 25 %.
* Early birds: 15 % if you register before October 20. Extended to November 5!
* Payment in smaller increments is possible.
TESTIMONIALS
So much happiness and joy of being with you.
And it's where I find ME.
I should sing it. Sing it for you.
To let you know how much you give me.
Sky from Hsinchu
I really enjoy sound flowing out freely and impulsively. Although I am the singer, I am also the listener, I hear sound coming out of my mouth, naturally flowing.
I feel sound is the language of the soul, something language cannot express.
I really wish to learn overtone singing.
I feel overtone singing opens up some unknown and unfathomable territories.
Amano from Hsinchu

YOUR GUIDE
Mark van Tongeren is a vocal performer working at the intersection of art and science. He has 25 years of experience in music and intermedial performance and holds a PhD in artistic research. He has traveled to the Altai, Mediterranean isles and Tibetan monasteries to learn from established masters. He is an international authority on the technique of overtone singing, both as a performer and author. He has taught at TNUA's Music and Theatre Departments (2003-2004), National Chengchi University's X-Lab (2012 – now) and at Canjune. He frequently collaborates with composers, improvisers, musicians and dancers in and outside Taiwan. He teaches and co-leads tours for Canjune and will lead the second musical tour to Tuva (Siberia) in Summer 2018.
Full biography: www.fusica.nl/biography
10 days from December 24, 2017 to April 2018
10 AM – 17:30 PM.
Place: CanJune Training Centre, Daan Area.
4F, #3 , Lane 151, Fuxing S Rd. Sec. 2.
Registrations for the course or requests for the digital brochure:
In Chinese: ly.sunny.chen@gmail.com/ 0912-024-285 CHEN Sunny
In English: info@fusica.nl / 0910 382 749 Mark van Tongeren
Photo credit: Yi Ching Juan, Mark van Tongeren, Jiji Liu