Last week Kustaa Saski's exhibition of tapestries opened in a new location run by the locally-known architect Siu Siu (Cha Cha). It was comissioned by June (pictured on top, with me, amidst three tapestries) about 5 years ago, after he exhibited in Taiwan through curator Frank, of Doublegrass. I remember we met Kustaa at several occasions here in Taiwan and also in Amsterdam, and it seems ages ago. June/Canjune, Frank and Kustaa persisted during these troubling times, and now the moment is there to enjoy the fruits of this long gestation. And I can only see it is absolutely formidable.
There were too many highlights during the opening, really, but I mention a few. Sanxia hosts many temples, tea houses, retreat centres, etc., and has its own magic atmosphere. Approaching the former minesite, and stepping into the actual buildings, now called Mineless, is a journey in itself. The design is an unbeatable combination of industrial, functional architecture repurposed very skilfully, to get the best out of the combination of trees and plants overgrowing the buildings and the interiors.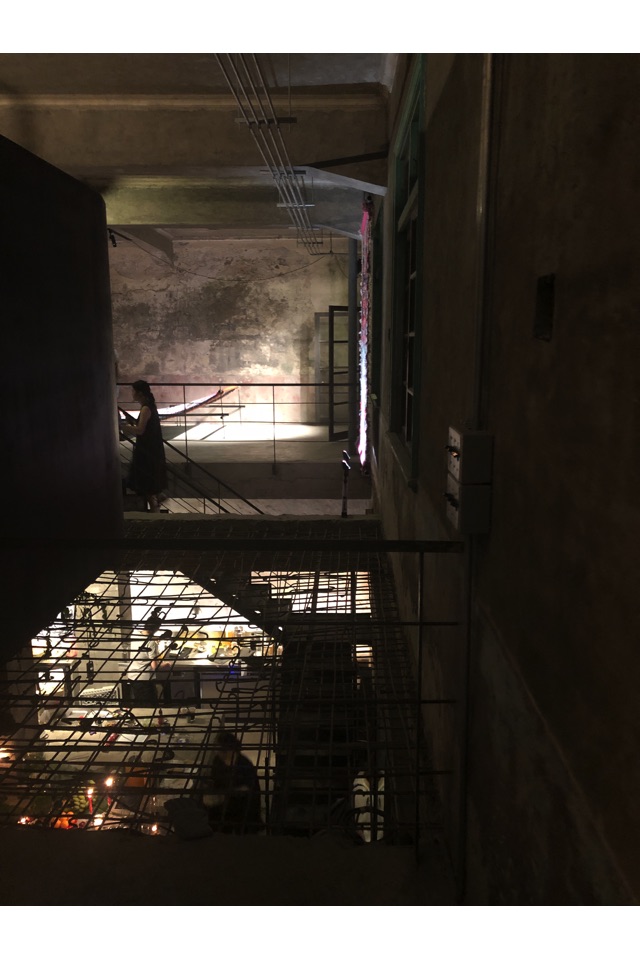 The short documentary film about what drives Kustaa is very moving, and shown near the entrance. You walk in and out of buildings, up and down stairs to see all the rooms – I guess I haven't seen it all yet. June gave a moving poetic talk – two, in fact – based on Japanese stories. There was a fire performance which will still be performed over the next few weeks, and there was music played on a collection of wood fish, including some really huge ones, made of unlacquered, plain wood. I had a chance to add some last notes in a space with booming low resonances, and those high notes too, of course (you know me).
Go check it out, there are many performances and I think it is all free! More info and review in Chinese here.
肯園 25 週年紀念展覽X芬蘭當代藝術家古斯塔‧薩克希
CANJUNE 25th Anniversary Exhibition X KUSTAA SAKSI
日期: 6月1 日至6月18日
地點:無礦 Mineless (新北市三峽區圳頭路119號之1)
時間:每週四、五、六、日 13:00-20:00
常設展演:免費入場自由參與
​𓇬 芬蘭當代藝術家 KUSTAA SAKSI – 巨幅手工織毯|藝術作品|
𓇬 KUSTAA SAKSI ​ – ​ 紀錄片播映|影片播映|
𓇬 肯園企劃「日 ☼ 造夢」 – ​ 香氣解藥舖|互動藝術|
𓇬 肯園芳療師 – 頌缽走神 |頌缽展演|
𓇬 葡萄牙當代藝術家 André Uerba – 時間燃燒 |裝置展演|
𓇬 台灣新銳藝術家/設計師 張家翎 – 潮濕的火 |裝置作品|
其它主題專場活動:https://www.accupass.com/event/2305111013036498445300
Talking about Expos, there was more happening, and still going on. Some of my oldest friends here in Taiwan, Aichin Rao and Iming Mavaliw, have a joint-solo-exhibition in the Kuandu Arts Museum. They used to work in Dulan (recently adopting its more correct, indigenous name Atolan, which sounds so much better), and live in Jrben, Taidong. Away from the humdrum of Taiwan's metropoles, where they are quietly but surely working on an oeuvre that is really impressive.
Iming's work is part furniture that is almost (neo)classic in style, in the sense that you see it all over Taiwan: huge slabs of wood for marvelous tables and benches, smaller pieces turned into chairs, stools, etc. But the surprise was the original art works, and most of all the more unpolished pieces.
Aichin's work consists of paintings, some sort of shelters, and mosaics, the latter of which you can encounter in larger-than-life-size on the East Coast of Taiwan as land-art, more and more often (we bumped into her two years ago, finishing her wall for the old train station in Taidong city).
Like some of my best artist-friends, Aichin never talks about her work, and I only learnt of the exhibition after running into Aichin. Another nearly accidental visitor, just like myself, was Scott Ezell, a somewhat elusive figure whom Aichin had often told me about. He used to live in Dulan and make music there shortly before I first set foot there, in 2004, but was expelled from the country. After many years, he turned up again and now we made the acquaintance. We exchanged our books: after some 15 years he published the account of his experiences in Atolan around the turn of the millenium. And I have to say it is a thoroughly enjoyable, poetic read, featuring Aichin, Yiming and many others of the burgeoning artist community, before Atolan became a hotspot for some sort of ethnic chic. Scott played some guitar, with flageolettes. A sure way to let me prick up my ears and introduce myself.
If you live in Taipei, go see both exhibitions while you can!
Scott's book about Atolan (Dulan) around the year 2000.