VOICE YOGA WINTER SOLSTICE RETREAT
December 21- 24 2023
Be timeless in sound
Three and a half days of intense explorations of voice and movement for body-mind balance and creative, vibrant well-being.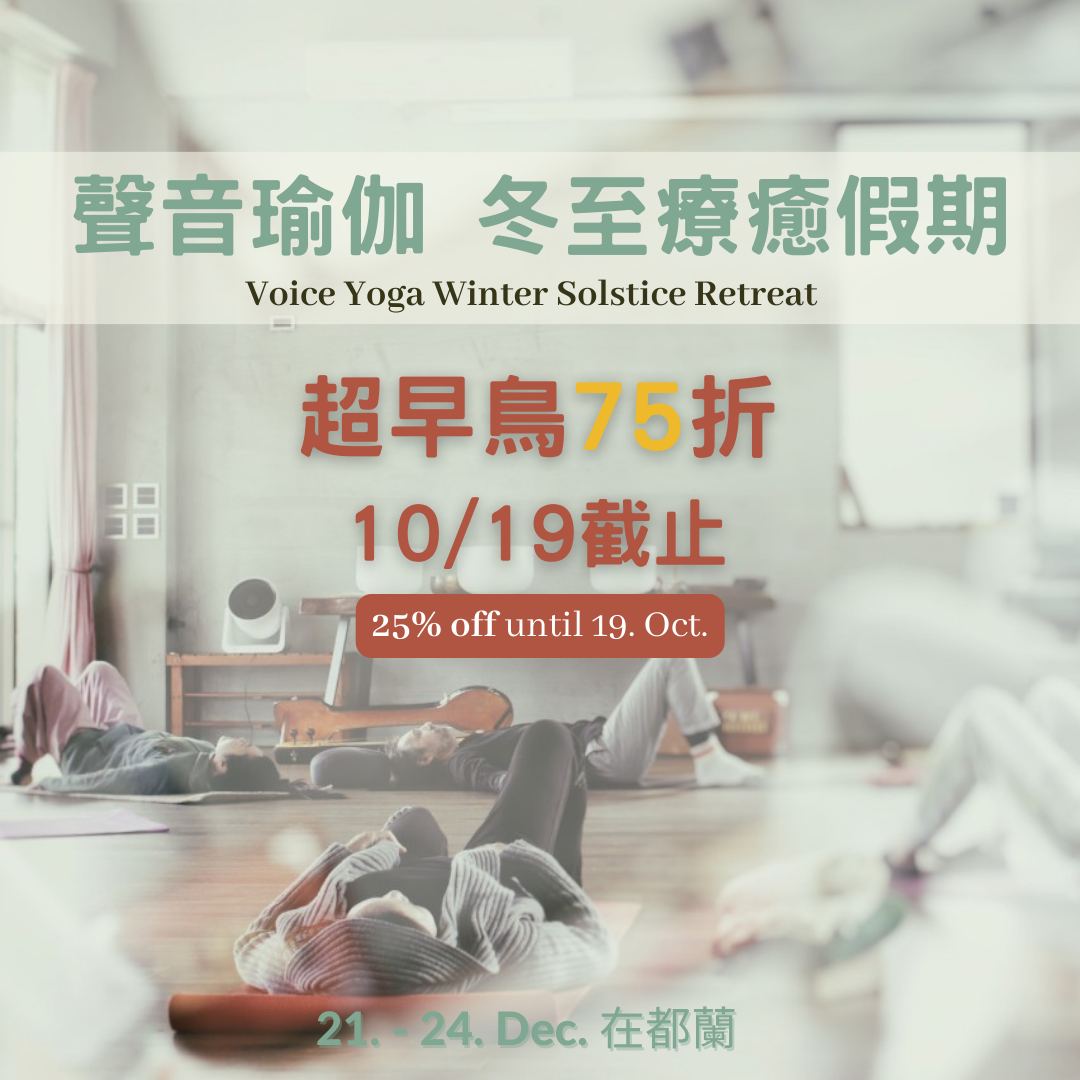 Scroll down for the Mandarin version
中文見下方
          ∂þ
WHAT IS THIS VOICE YOGA?
WHAT IS THIS RETREAT ABOUT?
In Voice Yoga's dynamic group process, you go beyond your habits and expectations. Something larger than yourself emerges: a flow of hidden creative potential.
Grounded in physical exercise such as yoga or contact improvisation, we work with all kinds of sounds without meaning and without emphasizing a beautiful singing voice. Pure, direct expressions and sensations of physical resonance and vibration through mouth, limbs, hips, feet, skin and inner organs.
We go beyond common subject-object and mind-body dualities, and bring our unconscious selves and sometimes irrational emotions to the surface. The group process becomes a mirror for the self and allows us to 'see' ourselves more clearly, to hear what's living deep inside. The result is often of a surprising clarity and immediacy.
          ∂þ
PROGRAM OUTLINE
We start Thursday Dec 21st at 9 AM and suggest you arrive the evening before.
We finish after lunch on Sunday 24th, around 1:30 PM.
Day 1
9:00-12:30 introduction to the program. Light exercising, breathing exercises, start moving, toning, improvising. Deep sleep session is usually included!
12:30-14:30 lunch & siësta
14:30-16:30 Guided movement and sound practices, walking meditations, improvisations
16:30-17:00 Tea time
17:00-18:00 Guided movement and sound practices, walking meditations, improvisations
18:00-19:30 dinner & rest
19:30-21:30 observe and celebrate today's Winter Solstice
Day 2, 3, 4 (half day)
9:00-12:00 Slow meditative warm up, mild to vigorous exercising, toning, noise making. Once again: restorative (half-)sleep/dream.
12:30-14:30 lunch & siësta
14:30-16:30 Guided movement and sound practices, walking meditations, improvisations
16:30-17:00 Tea time
17:00-18:00 Guided movement and sound practices, walking meditations, improvisations
18:00-19:00 dinner
On Day 3, our last evening, after the Solstice and before Christmas Eve, we will jointly celebrate the change from darkness to light. Participants can contribute a memory or reflection, a song, a dance, individually, en groupe, as a duo, whatever comes up. Consider to bring an instrument you play, candles to lighten up the atmosphere, a special garment or hat to wear.
          ∂þ
PLACE
We hold our sessions in Shufang's Energy Healing, a gorgeous yoga studio with a big garden in Dulan, Taidong. The studio has all utilities we need and is fully air-conditioned of course. We can use the big lawn outside for musical workouts in fresh air, giant rocks to repose, and shady places to rest.
          ∂þ 
FOR WHOM?
The workshop attracts young, curious artists; established musicians and performers facing creative obstacles or blockades; yoga and other body-mind workers not very familiar with sound; people familiar with sound but needing a fuller understanding and experience of it; people youna and old looking for physical and spiritual development; practitioners of Buddhism and other contemplative traditions needing deeper breathing and chanting practice; busy people needing a break from work in a relaxed atmosphere. Despite the name, Voice Yoga is not a harsh or demanding yoga camp, quite the contrary: it lets you grow at your own peace and rest and sleep or observe when you want to.
There are no specific requirements to join. Ages frange from early 20s to around 75. Yoga, music or other skills are not required. We strive for a group between 8 and 12 people.
          ∂þ
HOW TO PREPARE?
Bring a yoga mat to exercise and lie down. There are sitting cushions and also chairs if you cannot sit on the floor for long. Bring something to cover yourself when we repose or meditate. Bringing an instrument is a good idea (no need to play it well; a percussive instrument is always good).
          ∂þ
LANGUAGES
English + Chinese
          ∂þ
YOUR TEACHER
Mark van Tongeren is a Dutch sound explorer with a deep interest in the synergy of arts, sciences and contemplative traditions. Mark has 30 years of experience in theatre, music and dance productions and holds a PhD from Leiden University's Academy of Creative of Performing Arts. He practices yoga for some twenty-five years and all kinds of voice/music/performance practices for 35 years. His enterprise Fusica was established in 1998 to explore intersections of sound and the arts (music) on the one hand, and science and academica (fusikè, physics) on the other, with .
          ∂þ
MEET THE TEAM & CONTACT
This workshop is brought to you by organiser Jackal Mei, translator Sunny Chen and hosted by Shufang Wang.
Administrative assistance by Hsi-Yin Chang.
Jackal, Sunny, Mark
For any questions about the contents in English, ask Mark.
mark@fusica.nl
FB: https://www.facebook.com/Paraphony
Phone 0910382749
For any questions about the contents in Mandarin, and for lodging, travel and food details, ask Jackal.
Jackal: jackallala@gmail.com
For registration and payment issues ask Hsi-Yin.
Hsi Yin: hsiyin724@gmail.com
          ∂þ
PRICES
Regular: NT$ 29.500
Early Bird: – 25%. NT$ 22.125. (2 weeks, till October 19)
Early Bird 2: – 15%. NT$ 25.075 (3 weeks, till November 9)
Doubters' Discount: – 10%. NT$ 26550 (till 1 month before workshop, November 23)
Poor Struggling Artists Early Bird: – 20%. NT$ 23.600. (Register up to November 23).
Mark's Old students; TOSA members; students (ID card); seniors without sufficient income:  – 20%. NT$ 23.600.
Bring a friend: – 1000 NT$ (can not be combined with early bird discounts or artist price).
INCLUDED
– Tuition fee
– All lunches and diners (including Sunday lunch)
– Insurance
NOT INCLUDED
– Transport to Taidong
– Lodging
          ∂þ
REGISTRATION
– Please complete your online application form , and transfer application fee.
– online application form: https://forms.gle/WoCuHwKaMbzp7LZm6
– After transferring, please SMS, Line, or email to inform Hsi-Yin with your name, and the last 5 numbers of your bank account
– After receiving your fee, we will send a confirmation email in 5 days, and invite you joining our line group for more event detail.
PAYMENT
Bank code: 822.
Name of bank: China Trust
Beneficiary: Mark Christiaan van Tongeren
Account number: 163540306745
Make sure to send an email to Hsi-Yin after your payment. We will confirm reception as soon as possible.
          ∂þ
DISCLAIMER
We try to keep prices reasonable. If you cannot make it for some reason, we will return 80% of deposit fees up to 2 weeks before the event, 50% in the second week before starting date, and no refund in the last week leading to the event. In case of proven COVID-19-related problems we can give a refund (minus admin charge) or save the registration and fees for a next workshop.
          ∂þ
DISCLAIMER
By signing up you automatically acknowledge your understanding that this retreat sometimes involves strenuous physical exercise, potentially disrupting body-work and emotionally charged sessions with a deep impact on your well-being. It is understood that you yourself best know of any risks (physical, emotional, psychological) and that there is no pressure or obligation to do each and every exercise. By joining this retreat you accept the consequences and state your intention to complete it till the end. You waive all rights to seek or receive compensation in case of injury, loss or damage.
We reserve the right to cancel the retreat in the case we do not reach the minimum number of participants, between 4 and 2 weeks before starting date; in this case all paid workshop fees will be promptly returned. We are not responsible for expenses for the BnB or transport.
          ∂þ
KNOW MORE?
Mark's Voice Yoga runs for over 10 years and brings together decades of creative, vocal expression, yogic discipline and contemplative traditions.
Voice Yoga is neither yoga as you see all around you, or music as you hear it every day. It is a personal, artistic synthesis of a wide range of musical, resonant, theatrical, contemplative and physical arts. What binds them together is Mark's unique synthesis and his vision to create a strong sense of flow, no matter what the activity is. Serious workouts smoothly blend with unforgettable (and unrepeatable!) musical creations, deep breath work morphs into contact improv and vocal exercises into absurdistic theatre.
This retreat will give you a big boost, whether you are a musician, dancer, yoga teacher, actor, or just interested in working on your personal growth through the connections between sound, body and mind. No problem if you've never done yoga before!
          ∂þ
CURIOUS BUT IN DOUBT?
For a taste of this retreat,
come to one of the weekly Voice Yoga
classes in Taipei for a 2-hour session.
Classes will resume again soon, ask for the details.
     ∂þ
OTHER UPCOMING EVENTS
https://www.fusica.nl/upcoming-events/
  ∂þ
TESTIMONIALS
"I felt many sounds inside me first time and I felt there is an inner space inside my body. That was an very powerful experience for me. The body wasn't what I knew before. I felt peace when you sang… I do have a lot of fun when you want us imitate your voice… Every time when we make sounds together I feel I am decomposing and putting every part of me in one again. "
– Judith
" Your class shows me the magic of breath and voice. This makes my inner child very happy. "
– Nancy
" I enjoyed the class very much today. You had everyone engaged and creatively expressed as well as discharging and recharging well. "
– Tina
" More than ever, it brings back my childhood so I can play again. "
– Kovida
" Your class shows me the magic of breath and voice. This makes my inner child very happy. "
– Nancy
" Voice Yoga helps me feel lighter. "
– Jennifer
" I enjoy a lot and feel relaxed, this is a special course for me. "
– Judy
" This is better than sex! "
– Tammy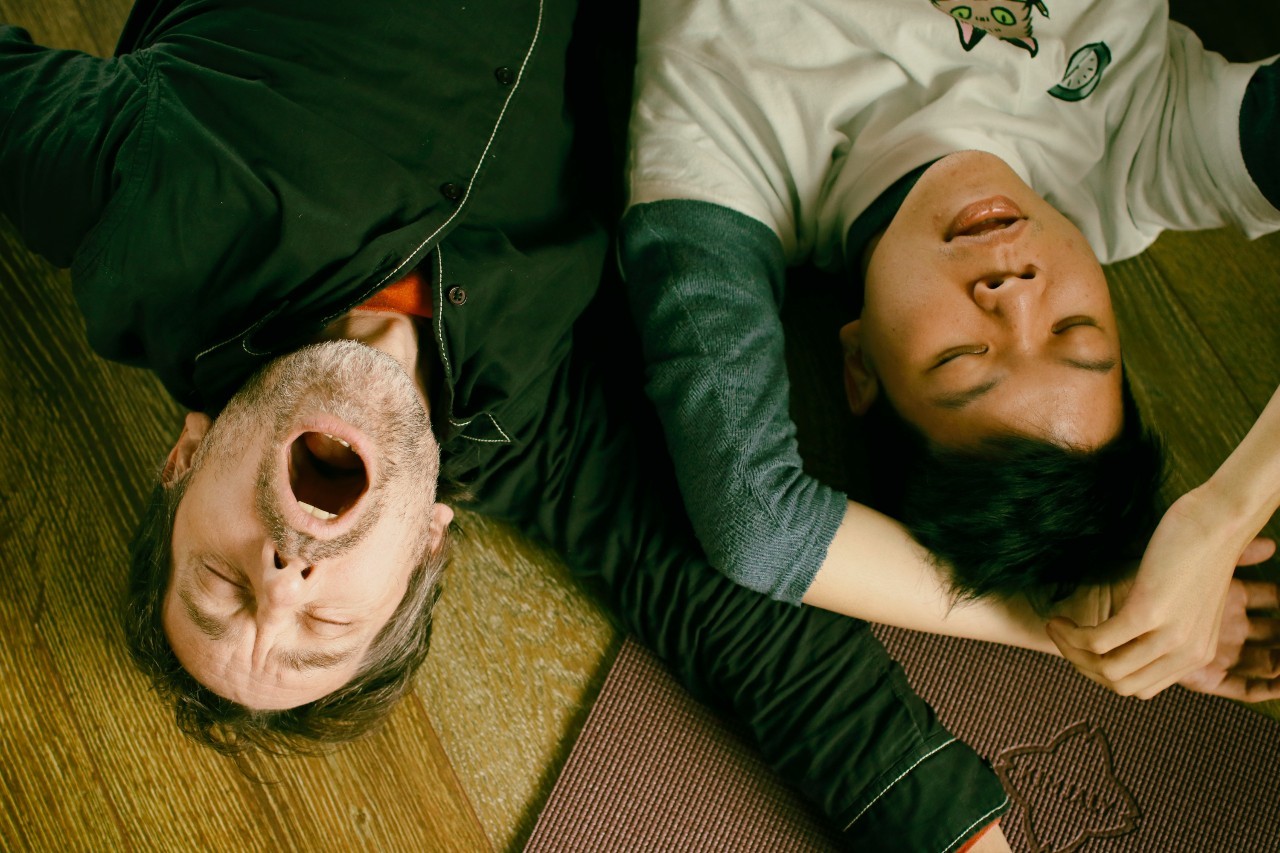 聲音瑜伽冬至療癒假期
2023年12月21日至24日 
成為聲音中的永恆
一期一會 人聲與想像力的年終慶典
整整三天半的關於聲音與身體的探索/
連結你的身心平衡,以及充滿創造力、活力的存在。
   ∂þ
關於聲音瑜伽 療癒假期
在聲音瑜伽的動態團體過程中,你將超越自己的習慣和期望。看見比自我更廣大的自己開始甦醒: 那些隱藏著的創造力開始顯現,如河水般開始流動。
以瑜伽或接觸即興等體育運動為基礎,我們使用各種沒有意義和不強調美麗歌聲的聲音。純粹、直接的表達,以及通過口、四肢、臀部、腳、皮膚和內臟的共鳴和振動的感覺。
我們超越了常見的主客體和心靈身體的二元對立,將無意識的自我和有時不理性的情感浮出水面。團體過程成為自我的鏡子,使我們能夠更清晰地"看見"自己,聽到深藏內心的聲音。結果通常具有驚人的清晰度和即時性。
∂þ
工作坊時程表
我們將於12月21日星期四上午9點開始,建議您前一晚抵達。 
我們將在星期日24日午餐後結束,大約下午1:30左右。
第1天 
9:00-12:30:計畫簡介。輕鬆的運動,呼吸練習,開始運動,調音,即興。通常包括深層睡眠的部分! 
12:30-14:30:午餐和午休 
14:30-16:30:引導的運動和聲音練習,行走冥想,即興 
16:30-17:00:茶點時間 
17:00-18:00:引導的運動和聲音練習,行走冥想,即興
18:00-19:30:晚餐和休息 
19:30-21:30:觀察並慶祝今天的冬至
第2、3、4天(半天)
9:00-12:00:緩慢冥想式的熱身,輕度至劇烈的運動,調音,製造噪音。再次:恢復性的(半)睡眠/夢境。
12:30-14:30:午餐和午休 
14:30-16:30:引導的運動和聲音練習,行走冥想,即興 
16:30-17:00:茶點時間 
17:00-18:00:引導的運動和聲音練習,行走冥想,即興 
18:00-19:00:晚餐
在第3天,也就是我們的最後一個晚上,在冬至和平安夜之間,我們將一起慶祝從黑暗到光明的轉變。參與者可以貢獻一個記憶或反思,一首歌,一支舞蹈,個人,集體,作為一對,無論發生什麼。你可考慮攜帶一個你會演奏的樂器,蠟燭來燈亮氛圍,一件特別的衣物或帽子來穿著。
∂þ
地點 
光之屋,距離都蘭主街步行20分鐘上山,背靠都蘭山、眺望太平洋
遠離塵囂、綠意昂然,是擁有大片草原和原生種植物的私人僻靜山莊
工作坊空間專門設計作為聲響體驗、音樂製作、人聲演唱
寬廣舒適、共鳴充滿、能量和諧,一個淨化身心的獨特場域
用心迎接聲音瑜伽士們的滿血回歸,還有什麼比光之屋更好的呢?
https://www.facebook.com/shufang.energyhealing/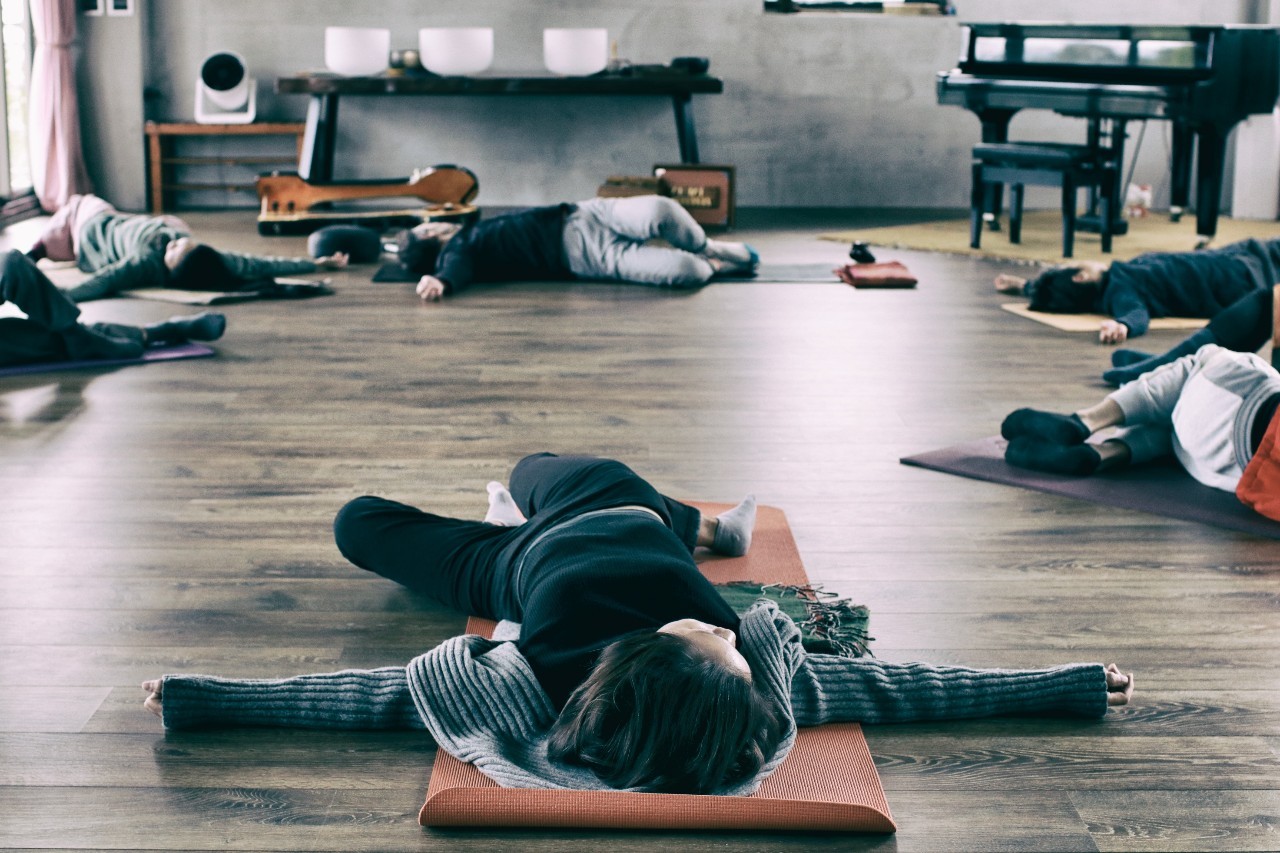 ∂þ
參加對象
這個工作坊吸引了年輕、充滿好奇心的藝術家;已經在創作中遇到困境或障礙的專業音樂家和表演者;對聲音不太熟悉的瑜伽和其他身心工作者;熟悉聲音但需要更深入了解和體驗的人;年輕和年長的人,尋求身體和精神的發展;佛教和其他冥想傳統的修行者,需要更深層次的呼吸和吟誦練習;忙碌的人需要在輕鬆的氛圍中休息,遠離工作的壓力。
儘管名為Voice Yoga,但這並不是一個嚴格或苛刻的瑜伽營,相反,它讓您按照自己的節奏成長,休息、睡覺或觀察都是可以的。 參加工作坊無需特定要求。年齡從20多歲到約75歲不等。不需要瑜伽、音樂或其他技能。我們希望參加的人數在8到12人之間。
∂þ
如何準備? 
請攜帶瑜伽墊用於運動和躺下。如果您不能長時間坐在地板上,我們提供坐墊和椅子。當我們休息或冥想時,請攜帶東西蓋住自己。攜帶樂器是個好主意(不需要演奏得很好;打擊樂器總是不錯的選擇)
2021聲音瑜伽 冬至療癒假期。 攝影:Jackal Mei
∂þ
語言 
英語 + 中文即席翻譯
[將會是一句句有節奏的翻譯,容易理解]
∂þ
帶領者
Mark van Tongeren 是一位荷蘭聲音探索家,對藝術、科學和冥想傳統的交互作用深感興趣。Mark 在戲劇、音樂和舞蹈製作方面擁有 30 年的經驗,並獲得萊頓大學創意表演藝術學院的博士學位。他練習瑜伽有約二十五年的經驗,並在聲音、音樂、表演等各種實踐領域已有 35 年的經驗。他的品牌 Fusica 成立於 1998 年,旨在探索聲音和藝術(音樂)以及科學和學術(fusikè,物理學)之間的交集。
認識更多馬克老師  www.fusica.nl。
我們的團隊
帶領者: Mark Van Tongeren
翻譯: Sunny Chen
活動規劃兼攝影: Jackal Mei
行政助理:張惜音
場地主人: 王曙芳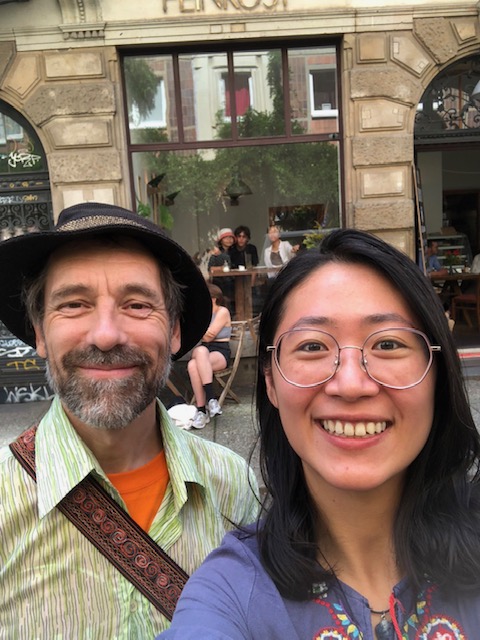 Mark 和惜音
For any questions about the contents in English, ask Mark: 
Phone/LINE:  0910382749
FB: https://www.facebook.com/Paraphony
Line ID:jackallala
手機號碼:+886 936596910
Line ID:hsiyin724
∂þ
責任歸屬

報名此工作坊代表你了解: 
1) 工作坊可能會有劇烈肢體運動,引起身體跟心理的衝擊。
2) 工作坊中的每項活動都不是強制性的,你必須衡量自身狀況(身體/心理/情緒)來決定要不要參與。
3) 你會對自己的身體及心理狀態負責,主辦方不承擔任何相關的傷害、損失及賠償責任。
如果在開始日期之前4到2週內我們未能達到最低參加人數,我們保留取消療癒假期的權利;在這種情況下,所有已支付的工作坊費用將迅速退還。我們不對住宿或交通費用負責。
報名費用
超早鳥優惠: 75折, 新台幣 22,125元(至10月19日)
早鳥優惠:85折, 新台幣 25,075元(至11月9日)
懷疑者優惠: 9折。新台幣 26,550元(至11月23日)
財務困難的藝術家優惠: 8折。新台幣 23,600元(至11月23日)

。

舊生/TOSA會員/學生(持學生證)/無足夠收入的年長者: 8折。新台幣 23,600元。

帶一位朋友: – 1,000新台幣(不可與早鳥優惠或藝術家價格結合使用)。
費用包含:
*學費
*7餐的台東地方蛋奶舒食餐食[午餐+晚餐]
*保險
不包含:
* 交通
* 住宿
【匯款通知手續】
1.請先完成線上登記手續: https://forms.gle/YRaVPaFVxPy1dayX9,並於3天內匯款完畢
2.匯款完畢,請以手機簡訊,Line、Email等其中一種的方式通知惜音(hsiyin724@gmail.com),並提供姓名、金額、匯款帳號後五碼
3.經確認款項後,將在五天內發出報名確認信件,並邀請您進入專屬Line群組,以便活動行前聯絡相關事宜
【匯款帳號】
銀行:中國信託敦南分行(代號:822)
帳號:163540306745
戶名:MARK CHRISTIAAN VAN TONGEREN
【取消報名】
課程前60天取消報名收取10%行政費。
課程前30-59天取消報名,主辦方將保留80%費用;
課程前29-15天取消報名,主辦方將保留50%費用。 課程1-14天取消報名,主辦方將不退任何費用
如果你找人來替代你來上課,我們將退回10%行政費之外的費用。
如果出現確診的COVID-19的相關情況,我們可以退款(扣除行政費用),或者將報名和費用保存供下一個工作坊使用。
 ∂þ
想了解更多?
馬克的聲音瑜伽已實踐超過10年,這個方法匯集了數十年的創造性、聲音表達、瑜伽修行和冥想傳統。
聲音瑜伽既不是你在四周看到的瑜伽,也不是你每天都聽到的音樂。它是一種個人的、藝術性的綜合,融合了廣泛的音樂、共鳴、戲劇、冥想和身體藝術。它們的共同點是馬克的獨特綜合和他的願景,創造出一種強烈的流動感,無論活動是什麼。嚴肅的練習融入令人難以忘懷(並且無法重複!)的音樂創作中,深層呼吸法演變為接觸即興,聲音練習則變成荒謬的劇場。
這個療癒假期將給您帶來很大的提振,無論您是音樂家、舞者、瑜伽老師、演員,還是只是對通過聲音、身體和心靈之間的聯繫來工作於個人成長感興趣。如果你以前從未接觸過瑜伽,也沒問題!
∂þ
好奇但有疑問嗎?
每週聲音瑜珈 
想要嘗試一下這個療癒之旅的滋味嗎? 
歡迎來參加台北每週一次的聲音瑜珈課程, 每堂課為2小時。
課程將很快恢復,詳情請詢問。
∂þ
更多關於我們的活動
∂þ
【學員分享】
「第一次我感到內心有許多聲音,我感到我的身體內有一個內在的空間。這對我來說是非常強大的經驗。這個身體不再是我以前所知道的。當你唱歌的時候,我感到平靜…當你要求我們模仿你的聲音時,我覺得非常有趣…每次當我們一起發聲時,我感到自己正在分解,然後再重新組合每個部分。」- Judith
「你的課程向我展示了呼吸和聲音的魔力。這讓我的內在小孩非常開心。」- Nancy
「我非常喜歡今天這堂課。你讓每個人都參與其中,充分表達自己,並且有很好的放鬆和充電。」- Tina
「這比以往任何時候都讓我回想起我的童年,所以我可以再次玩耍。」-  Kovida
「聲音瑜伽幫助我感到更輕盈。」- Jennifer
「我非常享受,感到放鬆,這對我來說是一門特別的課程。」- Judy 
「這比性愛還要棒!」- Tammy