WORKSHOP CONTENT
This 2,5 day workshop is for students familiar with the basic overtone singing techniques and who want to improve their technical skills, explore new possibilities and just have fun singing together.
The emphasis is on three themes:
1) getting out clearer individual overtones
2) creating duo and trio pieces with overtones using Mark's ZERO method.
3) creating other choral pieces
Besides the technical and creative side of overtone singing, we spend time on voice-building, particularly to warm-up and refresh the singing body. Throat singing is not part of this workshop.
We have two days plus two evenings of singing and playing. A great opportunity to catch up with your overtone technique and enjoy singing together.
We are staying in Hui Mei's BNB/camping, already familiar to several Resonators. You can only stay overnight in shared rooms (two or four people in one room). A tent is also possible, though… Rooms and food are included in the price.
VIDEO LINK
Watch a video of the Superstringtrio singing overtones using the ZERO cycle (0…) developed by Mark here:
FOR WHOM
– students who have done the RESONANCE yeargroup with Mark
– those who have done several workshops of overtone singing with Mark or someone else
– anyone familiar with the basic techniques such as NG/1 cavity and RR/2 cavities and able to sing them.
Newcomers to overtone singing are referred to the 2-day Beginners workshop Overtone Singing in March in Taipei. Only exceptionally talented students qualify for joining this workshop after the beginners' workshop, if they wish to.
WHAT YOU NEED
You can bring your own sruti box, drum, guitar or Jew's harp for a joint improv session, but this is not necessary. Just your voice will do! Resonance students please bring the older pieces you like to sing so we can repeat some sogs you are already familiar with.
Other things like sleeping bags we will tell you after registration.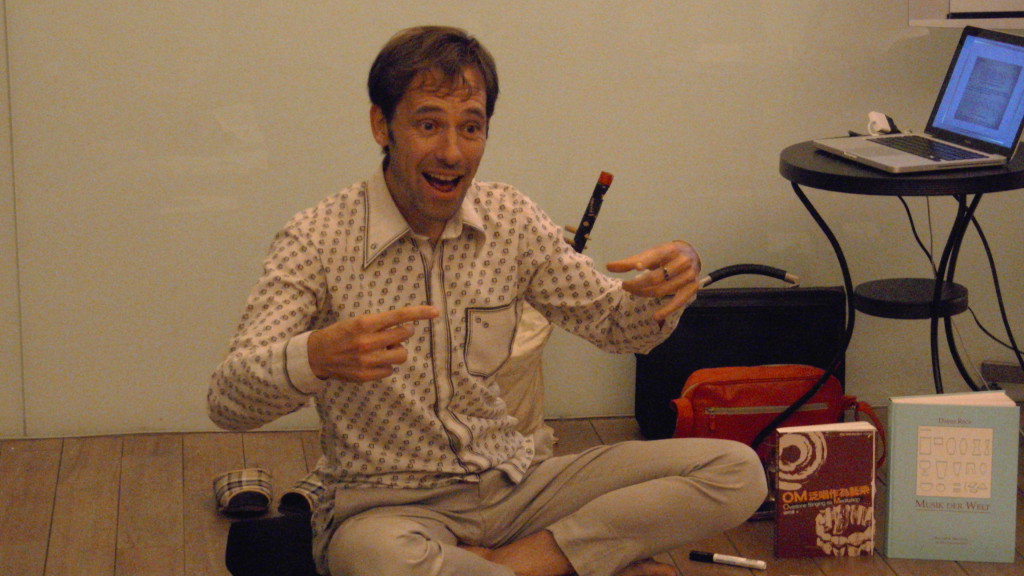 DATES & TIMES
Start time: Friday April 19, 7 PM with diner, (arrival may be earlier)
Finish time: Sunday April 21, 4 PM
PLACE
Puli, Hui Mei's place.
PRICES
Normal price: 10.500 NT$
RESONANCE students: 9.500 NT$
Students/seniors with ID card: 8.800 NT$
INCLUDED
– Tuition fee
– Shared rooming 2 nights (same for 2/4 persons)
– All meals (Friday diner up to and including Sunday lunch)
(if you have special request please let us know)
– Insurance
NOT INCLUDED
– Transport to Puli
YOUR TEACHER
Mark van Tongeren is a Dutch sound explorer with a deep interest in the synergy of arts, sciences and contemplative traditions. Mark has 25 years of experience in theatre, music and dance productions and holds a PhD from Leiden University's Academy of Creative of Performing Arts.
REGISTER & INFO
You can register by sending an email to info@fusica.nl and transfering a downpayment of 25% of the workshop fee.
If you want to stay in a room with someone specific, please let us know on the form/by mail.
For your questions (please check all the info in this announcement first!), you can ask Mark or Sunny.
In English: mark@fusica.nl / Facebook / Phone 09 103 827 49
中文: ly.sunny.chen@gmail.com / lineID: soleilc77 陳亮伃
PAYMENT
Payment upon registration by bank or Paypal.
Bank code: 822.
Name of bank: China Trust
Beneficiary: Mark Christiaan van Tongeren
Account number: 163540306745
Make sure to send an email when you have actually made your payment. We will confirm reception in a few days time.
PLEASE CHECK OUT OTHER UPCOMING EVENTS AS WELL!
Overtone Singing – beginners (March 23-24 2019)
Jew's Harp playing (probably May 18 or 19, Taipei, to be confirmed)
Sound Journey: Catch the Spirit of the Moment (Impro). (probably June 7-8-9, to be confirmed)
Check the Fusica Calendar.
See the Facebook Page.